2016 Awards
July 2016 "Certificate of Appreciation for Inner Parts Localization"
The scene of Awards ceremony
MINDA F-TEN PVT. LTD.(MFTL) received "Inner Parts Localization" from Maruti Suzuki India Limited
MFTL supplies the car audio that was first produced using inner parts, insert chips to board and also final assemble process at Indian facility in 2015. The contribution was recognized as a superior performance supplier in the field of Inner Parts Localization.

May 2016  "2015 Supplier Excellence Gold Award"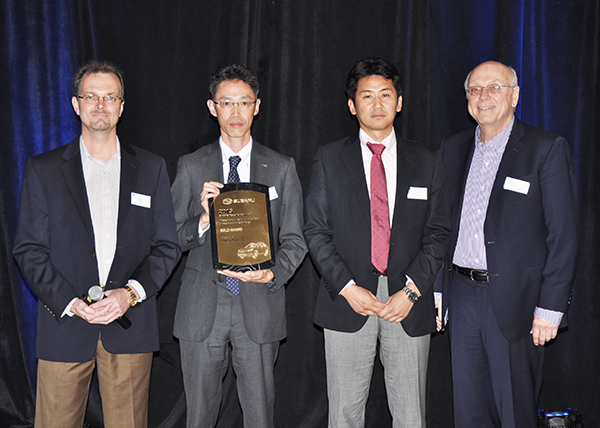 The scene of Awards ceremony
FUJITSU TEN CORP. OF AMERICA(FTCA)received Subaru of America, Inc.(SOA) 's "2015 Supplier Excellence Gold Award"
Out of 40 SOA's suppliers, only 8 were given the gold award. It was FTCA's first awarded in three years. Gold Award is given to the supplier who's quality and stability of supply and service performance is outstanding. FTCA's quick and accurate analysis of market claims and flexible supply performance to meet the increased demand were highly regarded by SOA and was the final decision making factors.

Press Release
https://www.denso-ten.com/release/2016/20160801.html


April 2016  "Outstanding Community Projects Award"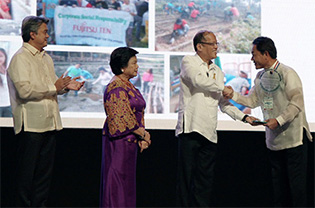 Awarding (Right to Left):
1. Mr.Shinji Kawabata - FTCP President
2. Mr.Benigno Aquino III - Philippine President
3. Ms.Laila De Lima - PEZA Director General
4. Mr.Adrian Cristobal Jr. - DTI Secretary
FUJITSU TEN CORPORATION OF THE PHILIPPINES(FTCP) received "Outstanding Community Projects Award" from Philippine Economic Zone Authority(PEZA).
FTCP, the subsidiary of FUJITSU TEN LIMITED(Kobe, Japan; President: Akira Yamanaka; Capital: 5.3 billion yen) received "Outstanding Community Projects Award" from PEZA.As for "Outstanding Community Projects Award", FTCP's contribution to society activity for the past 3 years was evaluated.Out of 3,121 PEZA locator companies, only 8 were given the award in the area of community service.

Press Release
https://www.denso-ten.com/release/2016/20160624.html