FUJITSU TEN CORPORATION OF THE PHILIPPINES received "Outstanding Community Projects Award" from Philippine Economic Zone Authority.

2015
FUJITSU TEN CORPORATION OF THE PHILIPPINES(FTCP) received "Outstanding Community Projects Award" from Philippine Economic Zone Authority(PEZA).
June. 24, 2016
FUJITSU TEN LIMITED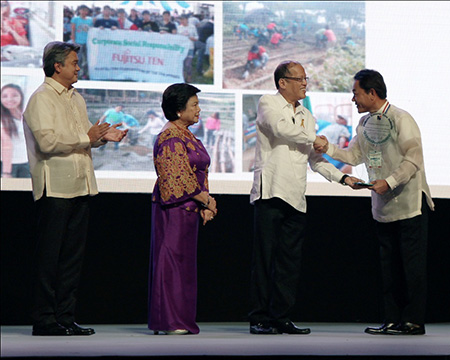 Awarding (Right to Left):
1. Mr.Shinji Kawabata - FTCP President
2. Mr.Benigno Aquino III - Philippine President
3. Ms.Laila De Lima - PEZA Director General
4. Mr.Adrian Cristobal Jr. - DTI Secretary
FTCP(*1), the subsidiary of FUJITSU TEN LIMITED(Kobe, Japan; President: Akira Yamanaka; Capital: 5.3 billion yen) received "Outstanding Community Projects Award(*2)" from PEZA(*3).
The PEZA Investors' Awards night was held at the World Trade Center in Manila on 14 April, 2016 and Philippine President, Benigno Aquino III awarded the trophy to FTCP President, Shinji Kawabata.
As for "Outstanding Community Projects Award", FTCP's contribution to society activity for the past 3 years was evaluated.Out of 3,121 PEZA locator companies, only 8 were given the award in the area of community service.
It is the second time to receive the award from PEZA for the "Outstanding Environmental Performer Award" of the 2012 fiscal year.

FTCP implements sustainable Corporate Social Responsibility programs with special focus on environmental preservation and biodiversity, community services, and corporate wellness.To ensure effective projects, FTCP tied-up with various government, non-government agencies, and local public schools to develop, promote, and implement environmental preservation projects and other worthy community services with the following outcome:
- Planted more than 2,500 trees;
- Adopted a forest reserved in Mt. Makiling for reforestation;
- Numerous education caravan in various public elementary schools in Sta. Rosa and Binan, Laguna areas;
- Provided assistance to less privileged members of society (school supplies, basic needs for abandoned children and elders, blood donation to Red Cross, etc.);
- Supported various fun-run activities raising funds for environmental activities
- Successfully promoted volunteerism among FTCP employees.
In 2015FY, FTCP employees implemented approximately 15 kinds of activity for a total of 90 days. The number of the participants of the employees reached a total of 900.
(*1)About FTCP - Established : August 1990
Capital:130 million peasos
President: Shinji Kawabata
Business activity: Manufacture and sales of audio-visual products and automotive electronics
(*2)About THE OUTSTANDING COMMUNITY PROJECTS AWARD
Given to a locator or developer that has strengthened its relationship with the community through meaningful CSR projects like scholarship programs, free medical and dental services tree planting, gift giving, or similar pro-community projects.
(*3)About PEZA
PEZA - attached to the Department of Trade and Industry - is the Philippine government agency tasked to promote investments, extend assistance, register, grant incentives to and facilitate the business operations of investors in export-oriented manufacturing and service facilities inside selected areas throughout the country proclaimed by the President of the Philippines as PEZA Special Economic Zones.
FUJITSU TEN official site : http://www.fujitsu-ten.com/
The contents of a press release are as of the publication. Later, they are apt to be changed without notice. Thank you for understanding in advance.