Acoustics Development Center
The Acoustics Development Center is located at the head office of DENSO TEN in Kobe, Japan.
It is a comprehensive R&D facility for the evaluation and analysis of sound, leading to improved audio technology for the home and the automobile.
Objectives of the Center
Enhancement of current technical capabilities and development of new technologies for audio system development.
Enhancement of technical development capabilities for car audio systems, including in-vehicle acoustics.
Cultivation of employees' sensitivity to sound and music.
Streamlining the procedure for developing speaker and car audio systems.
Overview of the Center
Established: November 1, 1990
Total floor area: Approx. 830 square meters
Facilities: Studios, sound control room, anechoic room, measuring room, evaluation room, control room, car testing laboratory, radio shielding room
Sound control room
Linked with a studio that determines the target sound quality, the sound control room is equipped with high-precision professional digital recording and editing equipment. Everything from sound processing, live recordings, to CD production can be carried out here.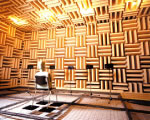 Anechoic room
This large anechoic space has a radius of 2.5 meters and walls covered with glass wool. It is used for various types of measurements of speakers and analyzing noise generated from precision mechanisms.
Measuring in-car acoustics
This is the final stage of developing car audio systems involving various in-car tests. An automated in-car acoustics measuring system is used to obtain precise measurements of acoustical properties, based upon which the final tuning process is carried out.
Evaluation room
The evaluation room was designed so that the reverberation time is very short to enable detailed evaluation of the acoustic characteristics of speakers, amplifiers, and other audio system components. This facilitates development of products that reproduce the highest quality sound.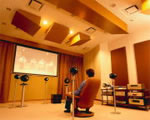 Theater room
Equipped with large-screen monitors, the theater room is used to perform comprehensive testing and evaluations of home audio system speakers, including speakers for 2-channel stereo and 5.1-channel DVD playback systems.
Studio Forte
Studio Forte is used to create original source material for use in evaluating in-car acoustics so as to improve the accuracy and efficiency of the evaluation process. It is also used for developing music software for car audio systems.