Products
Contributing to a better relationship among the human, the car and the environment
As ICT continues to make advances in car development, we use this advanced technology to achieve safety, comfort and affordability.
Furthermore, we are actively working toward producing an environmentally friendly car through developments, which include the "hybrid module ECU."
Hybrid module ECU
The hybrid combines a motor with maximum torque, when there is no rotation speed together with a high powered gasoline engine operating under a high rpm. Compared to the conventional gasoline powered car, the hybrid offers a significant reduction in CO2 emissions with high fuel economy.The hybrid control module ECU offered by DENSO TEN has achieved a control which optimizes the power distribution between the engine and motor according to the driving conditions.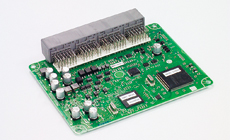 Contributing to increased fuel efficiency (10.15 mode 33-33.5 km per liter)
*Reference: for compact cars, fuel efficiency is 16-22 km per liter)
Contributing to reduction of exhaust fumes (75% fewer nitrogen oxides than the standard set in 2005)
Engine control module ECU
This device supports the realization of a clean high-performance engine that heightens the on-road performance and reduces the exhaust gas pollutants. A microcomputer is used to provide the optimal amount of fuel to the engine, to ensure proper ignition timing and control transmission operation.
Power management ECU
This system manages battery charge and discharge. It delivers charging instructions to the alternator (generator) to pinpoint the required amount, avoiding waste, extending battery life and improving fuel efficiency.
Development support system "CRAMAS"
This simulation technology is applicable as a development support system. We can develop and design an engine control unit ECU and many other systems by simulating the behavior of an actual vehicle. Not only does CRAMAS make product evaluation efficient, shorten the development period and improve product quality, but in part it also helps the environment by preventing the unnecessary release of CO2 emissions during product development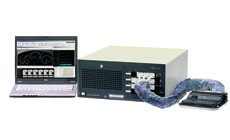 The Drive Recorder
A collision sensor perceives sudden braking or abrupt maneuvering, and then the drive recorder records the voice and images before and after an accident.In addition, DENSO TEN's unique Eco-drive support software perceives long idling time, the elapsed time while speeding and the number of sudden bursts of acceleration, and then makes an estimate which allows the driver to be aware of their individual "Eco-driving efficiency" with a simple glance. The driver can thus refine their driving and prevent problems, which both contribute to an improved awareness behind the wheel while protecting our environment through efficiency.
CTI automated dispatch system for taxis
Vehicle location information obtained by GPS is transmitted by digital wireless and centrally managed at a data center. At the dispatch office, CTI (Computer Telephony Integration) is used to search for the vehicle closest to the customer automatically, and dispatch instructions are sent to the vehicle's terminal. The system contributes to smooth and speedy dispatch, improved customer service, and more fuel-efficient driving.