Research and Development/Production and Quality Control
Delivering high performance products for safety to all the world
To fulfill our commitment to a safe reliable product, we conduct research on electromagnetic waves and how they affect electronic devices. Constantly pursuing better efficiency and reliability, our thorough quality control system and production system acquired ISO/TS16949 certification in our plants throughout the world. We live up to the customer's confidence by continuing to create reliable, high performance products.
Electromagnetic wave semi-anechoic chamber (Nakatsugawa Technical Center)
We actively promote the evaluation and research of electromagnetic compatibility (EMC).It measures unnecessary electromagnetic waves from electronic devices and evaluate product immunity against electromagnetic waves from extraneous sources in order to develop safer products with higher performance.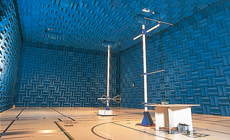 Outdoor testing grounds (Nakatsugawa Technical Center)
The grounds provide testing for evaluation of millimeter-wave radar, satellite broadcasts and audio products in vehicles under operation. We established various testing courses, which allow us to test many different things, such as sensitivity for tracking and receiving while vehicles are being driven. It promotes the development of ITS and multimedia equipment.
Electromagnetic field simulation (Kobe)
Electromagnetic field simulation (Kobe) In an era of high demand for reduced product development times and lower costs, we employ electromagnetic field simulation technology to visualize the electromagnetic waves generated inside a product, contributing to EMC (Electro Magnetic Compatibility) design in the early stages of product development.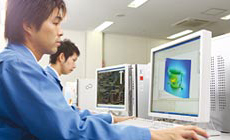 Wire bonding connection system (Nakatsugawa plant)
The adoption of the wire bonding system for connections in high-frequency sensor modules is a leading edge technology that allows for the realization of compact, highly dense and high-quality components that are indispensable for car manufacturing.
High-speed assembly line for engine control module ECU (Nakatsugawa Unit)
Interlocking product design with process planning materialized simpler, faster, more accurate assembly and inspection operations.
The high-speed assembly line for engine control modules is streamlined through the use of a fully automatic rapid inspection system.