Research and Development/Production and Quality Control
Pursuing the ideal, beyond limitations
Various processes that support reliable product manufacturing for diversifying media. "Acoustic development" is the nucleus for car audio manufacturing, and as a research facility,the "Acoustics development center" plays a significant role.In constant pursuit of the ideal and at the best of a thorough quality management body, evaluations of sophisticated, high performance products from the user's point of view, requires strict and severe testing.
Design review
At each phase of automotive electronics design for products requiring complex control, such as navigation systems, we thoroughly review product performance, features and reliability, and implement improvements as we develop a marketable product.
Anechoic room (Acoustics development center)
In the large-scale 5 meter square anechoic space, where glass fiber wool completely covers its walls, various measurements for speakers and noise analysis of precise mechanical components are conducted.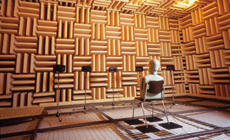 Control chamber (Acoustics Development Center)
Linked with the studio where sound quality objectives are determined, the control chamberis equipped with professional recording equipment capable of high-precision recording and editing. It handles a range of procedures from processing of live performance recordings, to CD cutting.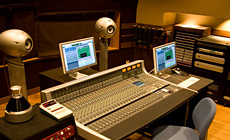 Electronic component mounting line
The high-density, high-precision mounting line mounts SMDs (surface mounted devices) at an accelerated rate of more than 10 points per second. This advanced equipment meets the need to manufacture highly sophisticated electronic products by incorporating a greater number of smaller parts and by allowing wider use of SMDs in the production process.
Lead-free soldering apparatus (Flat-DIP apparatus)
We have independently developed soldering apparatus used to achieve the high quality and reliability needed for automotive environments, and produce a wide range of products for the global market. It is in use at nine plants in Japan and overseas. (Pat. No. 39426235)
X-ray inspection
With the miniaturization and high integration of electronic components, soldering portions of devices such as LSIs have become invisible. X-rays are used to inspect these joints.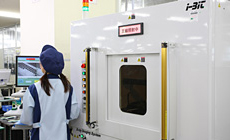 Durability test
This test evaluates the reliability of the car navigation system, and it also measures durability as it relates to operability after the product has been used for an extended period of time.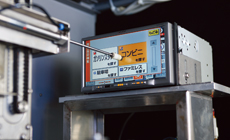 Usability test
Interlocking product design with process planning materialized simpler, faster, more accurate assembly and inspection operations.
The high-speed assembly line for engine control modules is streamlined through the use of a fully automatic rapid inspection system.
Display assessment
Displays are moved vertically and horizontally at various angles, and a variety of video sources like digital TV and DVD are employed to evaluate aspects of display picture quality such as brightness and color.