Car Electronic Device Components


A microcomputer-controlled fuel injection system precisely supplies fuel to the engine as needed. Optimal control of the amount of fuel injected and the ignition timing improves running performance and reduces hazardous components in the exhaust gas. The design also allows for installation of the ECU in the engine room, once difficult due to issues such as lack of heat resistance.





The system optimally controls two types of power source (gasoline-powered engine and electric motor) to improve fuel consumption and reduce exhaust gas. Also, as development tools for the hybrid module ECU, we have developed and supplied a dedicated motor model and a motor board for high-speed simulations?one of the fastest in the industry in terms of computing power.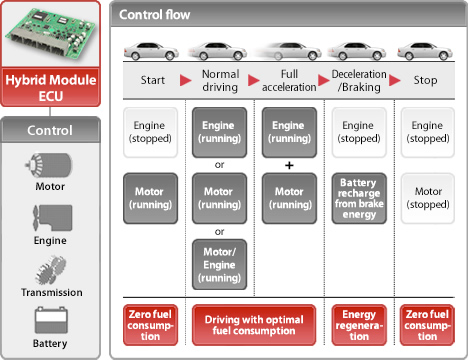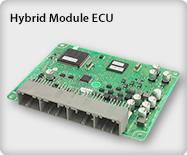 In a collision, sensors react and an airbag will deploy from the steering wheel or dashboard and inflate to lighten the impact on the driver's or passenger's body. The system also assists seatbelt action to aid in physical protection of the driver. The standard 8-channel system includes airbags with multistage control on both the driver and passenger side, along with knee airbags to restrain passenger movement in a collision. A 14-channel high-performance system also offers protection from a side collision (with side airbags and curtain shield airbags) and works with a rear pretensioner. Both of these advanced systems have been developed in cooperation with Toyota Motor Corporation.
(Computer developed and manufactured by DENSO TEN)
---



The system sounds an alarm if there is any forced opening/closing of a door or impact to a window. Sensors immediately detect any abnormal vehicular conditions and the system flashes the lights and sounds a loud alarm intermittently to deter car theft.
---



This telematics unit supports the eCall Emergency Call System* for automatic calling in case of an automobile accident or other emergency. Its functions include automatic calling after collision detection, manual calling using a call button, data transmission, and return calls from the Emergency Response Center.
*At the Yokosuka Research Park (YRP), our company has participated in building Japan's first testing platform for the eCall Emergency Call System together with Gemalto, the world leader in digital security.

---