English Translation
This press release is not for distribution outside of Japan.
Establishment of the platform for experimentation which corresponds, first in Japan, the "eCall Emergency call system"

-Corresponding to ongoing mandatory installation in Europe and Russia, and contributing to better competitiveness and cooperativeness of automobile industry-
December. 19, 2012
Yokosuka Telecom Research Park,Inc.
FUJITSU TEN LIMITED
Gemalto KK.
On December 19, 2012, Yokosuka Telecom Research Park, Inc.(*1), which possesses the experimental environment for supporting the development of the communication terminals that correspond to overseas network and which supports the enhancement of the global competitiveness of Japanese companies, FUJITSU TEN LIMITED.(*2), which engages in development of the car navigation brand "ECLIPSE" and of the advanced safety system, and Gemalto(*3), which is the world leader in digital security, have established the platform for experimentation which corresponds, first in Japan, to the "eCall Emergency call system(*4)" at Yokosuka Research Park (YRP) that possesses the experimental environment which can emit radio wave GSM(*5) for mobile network of European standard.
For the purpose of quicker responses, etc. to car accidents, European Commission (EC) urges to the mandatory installation of the "eCall Emergency call system (ERA-GLONASS(*6) in Russia)" to new model vehicles from 2015 in Europe, and the announcement of its introduction from 2014 was made in Russia. GSM which is the mobile communication standard in Europe is to be adopted as the wireless communication standard. In order to enforce the rule, a field verification project (HeERO(*7)) is promoted aggressively among European countries from this year.
Contribution to the development of "advanced safety system" by state-of-the-art technologies of telematics
Correspondence to the Emergency call system leads to the best opportunity to introduce the telematics service which needs standard installation of the communication device to all vehicles. Telematics service makes it possible to gather and provide information which contributes to improvement of comfort, safety, convenience and satisfaction for customer and which is the contact point among people, vehicle and society.
The purpose of the platform for experimentation established this time is to arrange the experimental environment in Japan and to play a role as the information hub for the European trends. It aims to contribute to both competitiveness and cooperativeness in the promotion of the development of the automobile industry in Europe and Russia and in the development of the telematics services in Europe and Russia.
Roles of the three companies
| | |
| --- | --- |
| Yokosuka Telecom Research Park Inc. | Possessing the GSM network of European standard and the function of PSAP(*8) (Call center) for verification |
| FUJITSU TEN LIMITED. | Providing the telematics unit (ECU(*9)) which has specification that corresponds to Emergency call |
| Gemalto N.V. | Providing the M2M(*10) module |
"We are very much impressed about this first 112 EU eCall test bed outside of Europe" said Andy Rooke, HeERO Project Manager of ERTICO, ITS Europe.
"By working together in a proactive manner, the technical partners in this self funded project have demonstrated that the Japanese automotive industry and supply chain will be ready to embrace the test and certification needs of Pan European eCall based on 112 by utilizing this unique GSM outdoor test facility at the Yokosuka Research Park"
About Yokosuka Telecom Research Park, Inc.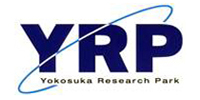 Yokosuka Telecom Research Park, Inc. was established as a supporting body of Yokosuka Research Park (YRP) to promote activities of companies and institutions in YRP, where a number of research organizations of the radio telecommunication technology are located.
Based on the experience of "ubiquitous specific project" which has been entrusted by Ministry of Internal Affairs and Communications in 2008 to 2010, the network environment of the world's major mobile terminal systems of GSM, W-CDMA, LTE, etc., have been constructed in YRP so that Inter-operability Test (IOT) between the network and various mobile terminals is provided. Particularly, the area is the only development environment in Japan, where outdoor tests accompanying the emission of GSM radio can be conducted.
The aim of the facilities is to support on-time export of the wireless products of Japan and to strengthen their international competitiveness.
YRP: http://www.yrp.co.jp/en/
YRP Wireless IOT Center: http://www.yrp-testbed.jp/en/
About FUJITSU TEN

FUJITSU TEN LIMITED(Headquarters/Kobe, Hyogo prefecture, Japan; Capital/5.3 billion yen), established in 1972 with investment from FUJITSU LIMITED, TOYOTA MOTOR CORPORATION, and DENSO CORPORATION, is a leading manufacturer of automotive electronic equipment. It is a globally-recognized manufacturer of car navigation and audio systems, ECU for engine and airbag control, and mobile communication equipment. Consolidated sales totaled 249 billion yen(US$3.11 billion) for the fiscal year ending March 31, 2012.
FUJITSU TEN is involved in the development of systems that use sensor technologies such as cameras and millimeter wave radar to detect obstacles near automobiles. It is expanding its business globally by fulfilling orders for genuine products for Toyota and other automobile manufactures both domestically and overseas.
For more information, see
FUJITSU TEN official site: http://www.fujitsu-ten.com/
FUJITSU TEN channel: https://www.youtube.com/FUJITSUTENLIMITED
FUJITSU TEN facebook: http://www.facebook.com/FUJITSUTENLIMITED
About Gemalto
Gemalto (Euronext NL0000400653 GTO) is the world leader in digital security with 2011 annual revenues of €2 billion and more than 10,000 employees operating out of 74 offices and 14 Research & Development centers, located in 43 countries.
We are at the heart of the rapidly evolving digital society. Billions of people worldwide increasingly want the freedom to communicate, travel, shop, bank, entertain and work ? anytime, everywhere ? in ways that are enjoyable and safe. Gemalto delivers on their expanding needs for personal mobile services, payment security, authenticated cloud access, identity and privacy protection, eHealthcare and eGovernment efficiency, convenient ticketing and dependable machine-to-machine (M2M) applications.
Gemalto develops secure embedded software and secure products which we design and personalize. Our platforms and services manage these secure products, the confidential data they contain and the trusted end-user services they enable. Our innovations enable our clients to offer trusted and convenient digital services to billions of individuals.
Gemalto thrives with the growing number of people using its solutions to interact with the digital and wireless world.
For more information visit http://www.gemalto.com, http://www.justaskgemalto.com, http://blog.gemalto.com/, or follow @gemalto on Twitter.
Notes
*1 Yokosuka Telecom Research INC.
Head office: Yokosuka City, Kanagawa, President & Representative Director Yuto Yoshida, Capital: 4.9 billion yen
*2 FUJITSU TEN LIMITED
Head office: Kobe City, Hyogo, President & Representative Director: Takashi Shigematsu, Capital: 5.3 billion yen
*3 Gemalto N.V.
Head office: Netherlands, Representative Olivier Piou, Euronext NL0000400653 GTO
*4 eCall: Emergency call system
A system that, in case of car accident occurrence, IVS (In-vehicle system) installed in the vehicle initiates "112" emergency call automatically or manually to the emergency answering center (PSAP) nearest to the accident site, and transmits voice and MSD (Minimum Set of Data) through the GSM network, and thus, aims to improve the lifesaving rate.
*5 GSM
GSM (Global System for Mobile Communications) is the standard of the 2nd generation mobile phone system (2G) realized by FDD-TDMA method. GSM is used in almost all the country other than Japan and Korea and is the standard currently used most among the mobile phone standards. About 2 billion people use it in 212 nations in the world. Although utilization efficiency of the radio wave is inferior to the 3rd generation mobile phone system (3G), low cost is advantage of GSM.
*6 ERA-GLONASS
"eCall Emergency supporting service" of Russia version which uses Russian satellite positioning system
*7 HeERO
The pan-European project that promotes eCall Emergency call system to be mandatory
*8 PSAP
Public Safety Answering Point: Emergency answering center. The regional lifesaving center which holds ambulances etc. like a fire station.
*9 ECU
Electronic Control Unit
*10 M2M
Machine to Machine:A system that automatically performs appropriate control, through the mutual information exchange between machine and machine or between machine and information system which are connected to the network, without human operation.
Attached material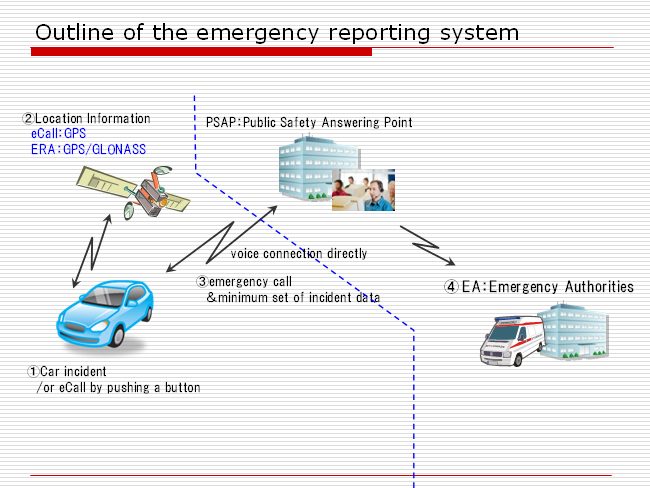 [Inquiries from the press]
Yokosuka Telecom Research Park, Inc.
General Affairs Department
Business and Planning, Testbed Business Department
Tel:+81-46-847-5155 E-mail:sato@yrp.co.jp

Corporate Communications Dept.
FUJITSU TEN LIMITED
TEL:+81-78-682-2170 E-mail:pr@ten.fujitsu.com

Gemalto KK.
Cinterion Japan office
Tel:+81-3-6744-8915 E-mail:shigeharu.yamada@gemalto.com
The contents of a press release are as of the publication. Later, they are apt to be changed without notice. Thank you for understanding in advance.