Research and Development/Production and Quality Control
Research & Development
DENSO TEN carries out global R&D to develop products and services for markets around the world.
Tokyo Office
Software Development
Planning and development takes place at these key locations on systems (services and on-board devices) that have global applications. Also, the most cutting-edge R&D at DENSO TEN is conducted here on software development technology and technology related to advanced driver assistance systems (ADAS) with the aim of building next-generation vehicle platforms.
Nakatsugawa Technical Center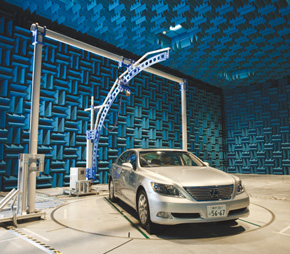 The center consists of an electromagnetic compatibility (EMC) testing facility, for evaluating and researching electromagnetic wave noise that affects electronic equipment, along with a test ground, for driving vehicles around various test courses to conduct a wide range of tests that include tracking performance and reception sensitivity. The center works to assure safety and security in products and achieve high performance.
Acoustics Development Center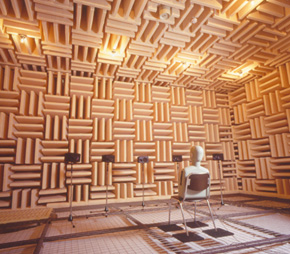 The center consists of Studio Forte, at which original music software is developed for car audio systems, an in-car acoustics measuring system for conducting various in-car tests, an anechoic room used for analyzing noise generated from precision mechanisms, and other facilities. It is a comprehensive acoustics development facility at which research on sound itself is conducted, extending to activities that support the production of reliable products for a diverse range of media.

Production & Quality Management
DENSO TEN's production network extends throughout the world. Our plants in Japan and outside of Japan have obtained ISO/TS16949 certification and carry out thorough quality management.

DENSO TEN has established a global production system to deliver to expanding automobile markets around the world. Notably, the Nakatsugawa Plant and Oyama Plant are positioned as mother plants within the Group. These plants develop cutting-edge production technologies, which are then deployed to plants outside Japan, strengthening our international competitiveness through manufacturing capabilities.
Wire Bonding Connection System
Wire bonding systems for connecting high-frequency sensor modules are a cutting-edge technology that enables compact, high-density high-quality components that are indispensable for auto manufacturing to be produced.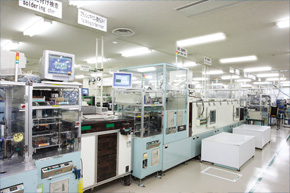 High-Speed Assembly Line for Engine Control Module ECUs
Linking product design with process planning has simplified assembly and inspection, making these processes faster and more accurate. The high-speed assembly line for engine control modules has been streamlined through the use of a fully automated rapid inspection system.
Durability Test
This test evaluates the reliability of the car navigation system and measures durability as it relates to operability after the product has been used for an extended period of time.
Lead-Free Soldering Apparatus(Flat-DIP)
We have independently developed an apparatus for lead-free soldering of a wide range of products. It is in use at nine plants in Japan and overseas. (Pat. No.39426235)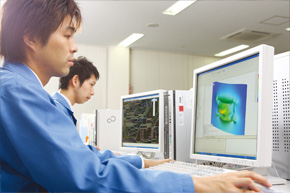 Electromagnetic Field Simulation
In an era of high demand for shorter product development cycles and lower costs, we employ electromagnetic field simulation technology to visualize the electromagnetic waves generated inside a product, contributing to EMC design in the early stages of product development and speeding up product development.

DENSO TEN Technical Review
This journal introduces the technology and products of DENSO TEN to readers both inside and outside the company in order to earn their understanding and trust, promote the technological development activites of our technicians, and increase the desire of all DENSO TEN personnel to tackle new technologies.
DENSO TEN Technical Review