Fujitsu to Exhibit at 22nd ITS World Congress, Bordeaux 2015

2015
Fujitsu to Exhibit at 22nd ITS World Congress, Bordeaux 2015
Will showcase latest technologies for achieving human-centric intelligent mobility
Fujitsu Limited
Fujitsu Ten Limited
September 30, 2015
Tokyo and Kobe, Japan, September 30, 2015 ? Fujitsu Limited and Fujitsu Ten Limited today announced that they will be exhibiting together at the 22nd ITS World Congress 2015, which runs October 5 ? 9 in Bordeaux, France.

 Based on the theme of achieving human-centric intelligent mobility, Fujitsu and Fujitsu Ten will exhibit the Fujitsu Group's ICT solutions for the motoring world. The combined exhibit will introduce Fujitsu's efforts with FUJITSU Intelligent Society Solution SPATIOWL, a cloud service that leverages positioning information; Mobility Recorder, for collecting information from a vehicle, its environment, and driver; and human-sensing technology, which tracks a driver's gaze.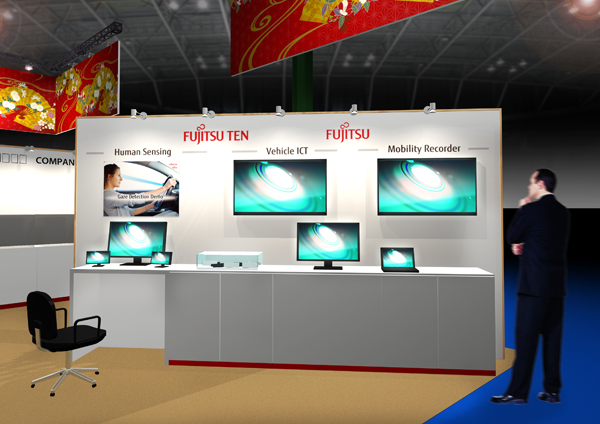 [figure] Representation of the Fujitsu Group booth
About the Exhibit
■Date Dates: October 5 ? 9, 2015
■Location Place: The Fujitsu Corner within Japan Pavilion, booth number E48
■Theme Theme: Achieving Human Centric Intelligent Mobility
■Theme Exhibits:
1. Location-info utilization services that support intelligent mobility
Fujitsu will introduce services using real-time positioning information via SPATIOWL.
・Using real-time positioning information about people and transportation
Fujitsu will show how a city's traffic-management agency can compile and analyze positioning information about people and vehicles and predict the impact of external factors, such as weather and special events, to study plans for optimizing transportation measures, as well as utilizing positioning information for allocating security personnel and marketing by nearby facilities.
・Simple road-management service
Fujitsu will introduce a fast and low-cost city road-management service that visualizes traffic conditions using traffic information captured by analyzing images from cameras located at intersections and probes mounted in police cars and other vehicles.
・Multimodal route information service
Fujitsu will introduce a system to provide pedestrians and cyclists with convenient routes for moving about the city on public transportation, such as buses and trains, to promote the effective use of public transportation.
2. In-vehicle infrastructure technology for achieving human-centric intelligent mobility
Fujitsu will propose technologies that contribute to safe, convenient, and independent mobility by making good use of data, putting it to work for people, and encouraging action.
・Achieving a human-centric vehicle with vehicle ICT
Fujitsu will introduce its concept for manufacturing vehicles that are safer, more secure, simpler, more convenient, and better adapted to people, by connecting information in the car to the cloud.
・Mobility Recorder
Fujitsu will introduce an IoT platform that offers a variety of predictions and other services by continuously gathering and analyzing information about the vehicle, the surrounding environment, and the driver.
・Human-sensing technology (gaze detection)
This demonstration lets participants experience how technology from Fujitsu Laboratories that detects a driver's gaze can be used as part of a cloud service and car interface for safer driving.
Theme
Toward Intelligent Mobility: Better Use of Space
Sponsor
ERTICO-ITS EUROPE, TOPOS
Hours
Oct. 5 (Mon) 18:45 to 20:00
Oct. 6 (Tues) 9:00 to 19:00
Oct. 7 (Wed) 9:00 to 19:00
Oct. 8 (Thurs) 9:00 to 19:00
Oct. 9 (Fri) 9:00 to 14:00
Location
Congres et Expositions de Bordeaux (http://www.bordeaux-expo.com/)
About Fujitsu
Fujitsu is the leading Japanese information and communication technology (ICT) company, offering a full range of technology products, solutions, and services. Approximately 159,000 Fujitsu people support customers in more than 100 countries. We use our experience and the power of ICT to shape the future of society with our customers. Fujitsu Limited (TSE: 6702) reported consolidated revenues of 4.8 trillion yen (US$40 billion) for the fiscal year ended March 31, 2015. For more information, please see
http://www.fujitsu.com
About FUJITSU TEN
FUJITSU TEN LIMITED, established in 1972 with investment from FUJITSU LIMITED and with additional investment from Toyota Motor Corporation and DENSO Corporation in 1973, is a leading manufacturer of automotive electronics Industry. It is a globally-recognized manufacturer of car navigation and audio systems, ECU for engine and airbag control, millimeter wave radar, mobile communication equipment etc. It is expanding its business globally by fulfilling orders for genuine products for Toyota and other automobile manufactures.
http://www.fujitsu-ten.com/
All company or product names mentioned herein are trademarks or registered trademarks of their respective owners. Information provided in this press release is accurate at time of publication and is subject to change without advance notice.