New Mobility Life produced by linking service Future Link™

2014
New Mobility Life produced by linking service

October. 15, 2014
FUJITSU TEN LIMITED
FUJITSU TEN LIMITED (Head office: Kobe City, Hyogo, Japan; President & Representative Director: Akira Yamanaka) is actively promoting a new service

that links data on "people," data on "vehicles" and data on "society" to offer a new mobility life to customers.
FUJITSU TEN compiled "VISION2022" showing our 10-year-future vision at the time of 40th anniversary in 2012. The vision is to "contribute to creation of free and comfortable mobility society where people and vehicles, society and vehicles are connected," mainly by promoting Vehicle?ICT business based on the advanced information communication technology (ICT) provided by FUJITSU Group, in addition to our strengths in three business fields of "comfort and convenience," "security and safety" and "environment."
We are aiming for becoming "a manufacturer of in-vehicle linking information systems" so as to achieve "VISION2022" through the evolution of

while stably providing our core in-vehicle devices.
These days, more and more services through applications by use of a smartphone are provided for the purpose of offering more comfort and convenience in a vehicle. At the same time, our driving environment is drastically changing. For example, collision safety systems for supporting safer and more secure driving are going to be standardized, and a rapidly growing movement toward the achievement of automatic driving systems is seen.
As for infrastructure, communication is drastically improving in service area, speed, traffic and quality, which enhances the establishment of a cloud server that stores and deals with enormous data.
FUJITSU TEN aims for providing new values matching individual customers through our linking service

while utilizing this environment to the maximum, by linking data on "people" such as individual driving characteristics, data on "vehicles" obtained from in-vehicle devices and various sensors, and data on "society" such as infrastructure and the Internet.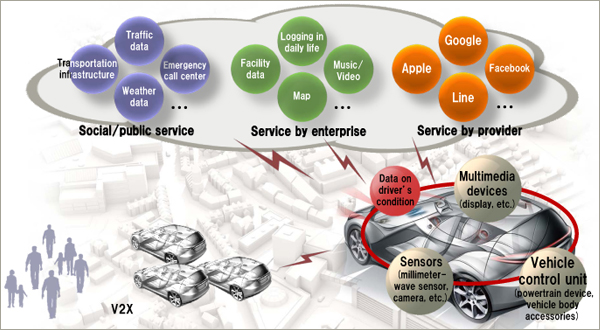 Goal of the values produced by
To offer new pleasure
We aim for offering various kinds of pleasure such as driving, moving, and owning a car, by achieving services optimum for a user. In an example, we will approach supporting comfortable driving, by making the contents used at home or outside available even in a traveling vehicle without interruption.
To offer advanced safety and security
We aim for offering safe and security services by providing optimum data to reduce accidents, reducing complex operation or other method, which will give a user new sensation of attractiveness of a vehicle. In an example, we will approach the provision of necessary data in optimum timing according to driver's condition, while predicting traffic congestion and danger based on data on people such as driver's driving skill and data on society such as accumulated traffic data.
To offer unprecedented values
We aim for offering unprecedented values by newly utilizing data on people, data on vehicles and data on society. In an example, we will approach the utilization of an in-vehicle camera as a monitoring camera for the purpose of crime prevention in the whole society, not only for antitheft for own vehicle.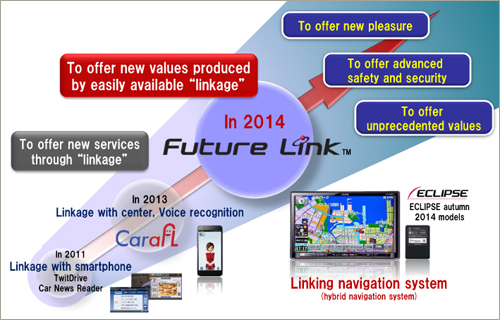 Setting a keyword "linking" as our theme, FUJITSU TEN released some smartphone applications linked to a car navigation system, for example, "TwitDrive" in 2011 that allows a user to share tweets posted in a current location area, and "CarafL" in 2013 that allows facility retrieval through voice dialogue in linkage with a center.
In ECLIPSE autumn 2014 models, all time communication with a center via an accessory data communication unit allows automatic updating of map data and retrieval of latest facility data. With the new models, FUJITSU TEN is going to take a new step to achieve new linking services through

.
Trademark Information
・Apple is trademark of Apple Inc.
・Proper names such as the product names mentioned are trademarks or registered trademarks of each company.
About FUJITSU TEN
FUJITSU TEN LIMITED, established in 1972 with investment from FUJITSU LIMITED and with additional investment from Toyota Motor Corporation and DENSO Corporation in 1973, is a leading manufacturer of automotive electronic equipment.
It is a globally-recognized manufacturer of car navigation and audio systems, ECU for engine and airbag control, and mobile communication equipment, and is involved in the development of systems that use sensor technologies such as cameras and millimeter wave radar to detect obstacles near automobiles.
FUJITSU TEN is expanding its business globally by fulfilling orders for genuine products for TOYOTA and other automobile manufactures both domestically and overseas.

For more information about the Group and its businesses, please visit website at http://www.fujitsu-ten.com/
FUJITSU TEN channel https://www.youtube.com/FUJITSUTENLIMITED
FUJITSU TEN facebook http://www.facebook.com/FUJITSUTENLIMITED
[Inquiries from the press]
Corporate Communications Dept.
FUJITSU TEN LIMITED
E-mail:pr@ten.fujitsu.com
TEL: +81-78-682-2170

The contents of a press release are as of the publication. Later, they are apt to be changed without notice. Thank you for understanding in advance.