FUJITSU TEN Develops English-Version Prototype of "Interactive Voice-Recognition Car Navigation Unit" with Smartphone Linkage

2014
FUJITSU TEN Develops English-Version Prototype of "Interactive Voice-Recognition Car Navigation Unit" with Smartphone Linkage

- Exhibited at "The 2014 GSMA Mobile World Congress" -
February. 17, 2014
FUJITSU TEN LIMITED
| | |
| --- | --- |
| | |
| Exhibit Image | English-Version Prototype of "Interactive Voice-Recognition Car Navigation Unit" with Smartphone Linkage |
FUJITSU TEN LIMITED, developer of the "ECLIPSE" car navigation brand, has developed a prototype model of the English version of the "Interactive Voice-Recognition Car Navigation Unit" that performs searches through connection with the center server by utilizing a specialized smartphone application (voice-recognition agent application).
Users can speak using normal natural language and search results are returned vocally, allowing the destination to be set in this manner with no other actions. Users can add conditions while conversing with the unit, which understands the context and updates the search accordingly. Since the information a user wants to know is narrowed down simply by vocal interaction, the need to move one's line of sight to check the screen display is reduced, thereby contributing to safer driving.
This prototype will be displayed as a part of the FUJITSU LIMITED booth at the "The 2014 GSMA Mobile World Congress", the world's largest mobile phone-related trade exhibition to be held from February 24 (Mon.) to 27 (Thurs.), 2014, in Barcelona, Spain.
A car navigation providing this same type of search by voice interaction has already been released in Japan under the ECLIPSE brand. Through the exhibition of this prototype, FUJITSU TEN is striving to catch up with the needs of global customers, and the company plans to continue to study and develop products aimed at worldwide commercialization while keeping an eye on consumer demand and similar trends.
Features of the Interactive Voice-Recognition Car Navigation Unit
- Recognizes naturally spoken language even if standard phrases are not used.
- Results are returned vocally.
- Even if conditions are added, the context is understood and a search is performed (narrowing down process).
- Destinations can be set vocally.
Sample Conversation
D : Driver A : Agent (*)The prototype demonstration will be given by an example for use in the United States.
D : Find me an Italian restaurant around here.
A : Here is what I have found. There is "XXXX" in 0.3 miles from the current location.
D : I've changed my mind. I'll take Spanish instead of that.
A : Here is what I have found. There is "YYYY" in 1.2 miles from the current location.
D : Navigate me.
A : Sent the destination to the Car Navigation.
Features and Structure of Interactive Search
By speaking into a specialized car-navigation microphone, users can search for facilities or weather information and receive answers vocally through the car-mounted speakers.
All processing required for voice interaction is performed at the center server in order to provide the following features.
1. To execute the extraction of the speech section required as a pretreatment of speech recognition and the noise cancellation specific to in-vehicle environment, with high accuracy
2. The speech recognition in natural speech utilizing a huge amount of recognition dictionary database
3. To estimate the speech contents and the intent of the speaker by use of the advanced understanding capability and an inference engine
4. To execute the processing corresponding to the request from the speaker by use of various contents as well as the latest and real-time information
5. To send back the execution result and the search result by natural speech, using a huge amount of speech dictionary database
Voice recognition, meaning understanding, and speech synthesis analysis use an external platform.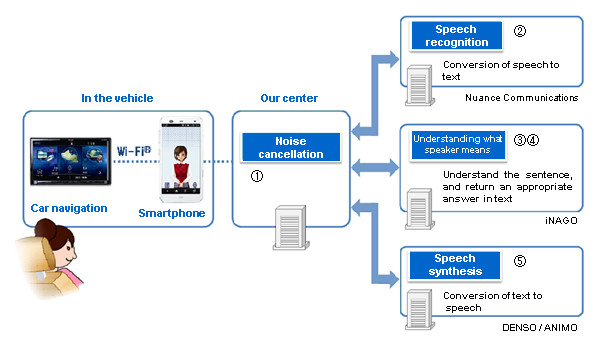 Mobile World Congress 2014 overview
| | |
| --- | --- |
| Dates | February 24, 2014 (Mon) - February 27, 2014 (Thurs) |
| Location | Barcelona, Spain |
| Place | Fira Gran Via |
| Host | GSMA Limited.(*1) |
FUJITSU TEN LIMITED, established with investment from FUJITSU LIMITED, Toyota Motor Corporation and DENSO Corporation, is a leading manufacturer of automotive electronic equipment. It is a globally-recognized manufacturer of car navigation and audio systems, ECU (electronic control units) for control of engines, motors, and airbags of hybrid vehicles, and mobile communication systems. FUJITSU TEN is involved in the development of systems that use sensor technologies such as cameras and millimeter wave radar to detect obstacles near automobiles. It is using these products to fulfill orders for genuine products for Toyota and other automobile manufactures both domestically and overseas. Through the fusion of our excellent on-board technology, the great strength of FUJITSU TEN, with the ICT technology of the FUJITSU Group, we will continue to contribute to the formation of a free and comfortable mobility society where people and vehicles, and society and vehicles are connected.
Nuance Communications, Inc. (NASDAQ: NUAN) is a leading provider of voice and language solutions for businesses and consumers around the world. Its technologies, applications and services make the user experience more compelling by transforming the way people interact with devices and systems. Every day, millions of users and thousands of businesses experience Nuance's proven applications.
iNAGO is a leader in Human-Computer Interaction solutions. Powered by its unique platform, netpeople, iNAGO brings a natural user experience to technology. netpeople enables human-like conversation and interaction with patent-pending Goal-Oriented technology, together with advanced technologies for Context-Aware Natural Language Understanding. When you interact with netpeople, it knows how to ask the right questions at the right time to get you to your goal.
Through netpeople, iNAGO is changing what's possible today in the car, mobile, home, business and beyond while creating endless potential for tomorrow.
FUJITSU is a comprehensive manufacturer in the ICT field that performs everything from development, manufacture and sales to maintenance and operation of leading-edge, high-performance, and high-quality products and electronic devices. The company is providing new value in various manners, such as through its SPATIOWL service, a telematics service that provides a voice processing service necessary for hands/eyes-free operation, and utilizes a large amount of positional data collected from probe data(*2) of moving vehicles, data of persons and buildings, sensor data, Internet data and similar data to function as a traffic information service that generates and provides traffic information.
Since its foundation in August 1994, ANIMO has developed software and services with a consistent focus on "sound and speech" as key technologies, following the corporate motto "speech technologies for a more vibrant society".
In addition to sound and speech software and middleware for embedded devices, intelligent devices such as smartphones, electric appliances, disaster-prevention information systems, and several systems for private and professional use, we offer a large variety of speech processing services fit for the cloud computing age.
note
*1 GSMA Limited:Abbreviation of Group Special Mobile Association. It was established in 1995 with a purpose of popularization of 2G communication system. It is the largest association in the mobile wireless industry in which 1000 companies or more (800 or more mobile phone companies) from 219 countries are currently participating.
*2 probe data:Information of speed or the position which can be collected from monitoring moving vehicles, regarded as a sensor.
Trademark
Wi-Fi is a trademark or registered trademark of Wi-Fi Alliance
netpeople is a trademark or registered trademark of iNAGO

[Inquiries from the press]
Corporate Communications Dept.
FUJITSU TEN LIMITED
E-mail:pr@ten.fujitsu.com
TEL: +81-78-682-2170


The contents of a press release are as of the publication. Later, they are apt to be changed without notice. Thank you for understanding in advance.