Fujitsu Ten Group has been awarded the globally integrated certification for Environmental Management and Occupational Health and Safety Systems

2012
English Translation
This press release is not for distribution outside of Japan.
Fujitsu Ten Group has been awarded the globally integrated certification for Environmental Management and Occupational Health and Safety Systems

The integrated certification straddles countries where a total of five languages are spoken
September. 20, 2012
FUJITSU TEN LIMITED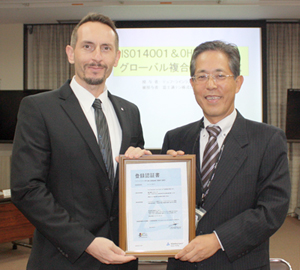 The Certificate Presentation Ceremony: Mr. Christian Weidinger, Chief Technical Officer, TUV Rheinland Japan (left), and Mr. Michitaka Ogura, Executive Vice President & Director, Fujitsu Ten (right)
On August 31, 2012, Fujitsu Ten Ltd. (Head office: Kobe City, Hyogo Prefecture; President & Representative Director: Takashi Shigematsu; Capital: \5.3 billion), which may be best known for its ECLIPSE car navigation system brand, was awarded the globally integrated certification(*1) for ISO 14001 (Environmental Management Systems) and OHSAS 18001 (Occupational Health and Safety Assessment Series)(*2), covering the Fujitsu Ten's global production network: a total of 8 sites, belonging to 7 different Fujitsu Ten Group companies (one of which is Fujitsu Ten Ltd. itself), in 5 different countries.
The Certificate Presentation Ceremony was held at the Fujitsu Ten Corporate Head Office Building on Tuesday September 18, 2012, with TUV Rheinland, the certification body, being represented by Mr. Christian Weidinger (Chief Technical Officer, TUV Rheinland Japan), and Fujitsu Ten being represented by Mr. Michitaka Ogura (Executive Vice President & Director, Fujitsu Ten Ltd.).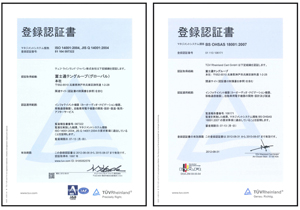 The Certificates
(ISO 14001 on the left, OHSAS 18001 on the right)
Christian Weidinger commented that "Integrated management systems have been established covering both Fujitsu Ten Ltd. and its individual production sites, based on the Group Occupational Health and Safety Charter and the Global Environment Charter. It is an extremely rare achievement for a company to be awarded the globally integrated certification covering both its domestic operations and overseas sites." Executive Vice President Ogura noted that "By clarifying what things to be done through the arrangements of operations, we have been able to strengthen awareness of the need for efficient operation. It was a great fruit that we have also reinforced the emphasis in our corporate culture on environmental protection and safety, putting in place the framework needed not only to prevent problems from recurring, but to prevent them from happening in the first place. In the future, we will continue to focus on this area, seeking to speed up our implementation of corporate social responsibility on a global scale."
Background for acquiring management system certification
As an important partner for many leading car manufacturers, Fujitsu Ten is well aware that the question of global environmental protection has become as an important management issue, and that, for the sake of safety production, workplace safety and enhancement of employee safety awareness is the management base to fulfill social responsibility and so has established management systems individually.
In August 2009, Fujitsu Ten was awarded the global joint certification for ISO14001. When it came to securing OHSAS18001 certification, the head office secured the integrated certification, in October 2010, with an environmental management system which has similar system operational methods based on the notions of ISO standards that compatibility with existing management system is preferable. And Fujitsu Ten Group sites in Japan obtained the integrated certification in December 2011.
The benefits of ISO14001 and OHSAS18001 integrated certification
Making management systems more efficient:
The high degree of compatibility (in terms of manuals, forms, etc.) between ISO 14001 and OHASA 18001, which both make use of a "Plan-Do-Check-Action" cycle model, helps to streamline operations (by eliminating the need for multiple similar procedures).
System compatibility facilitates making effective use of existing know-how that has been acquired over the years, thereby permitting efficient, effective management.



Partly thanks to the adoption of OHSAS18001, the Fujitsu Ten Group's accident rate per thousand employees has fallen from 2.44 employees per thousand in FY2009 to 1.77 in FY2011 (a 27% decrease).
The benefits of the globally integrated certification
As with ISO 14001, for which Fujitsu Ten already holds a global joint certification(*3), the globally integrated certification will help Fujitsu Ten strengthen its governance as the function of the head office, facilitate the formulation of strategies that take account of the health and safety situation throughout the Fujitsu Ten Group, and permit the sharing of information and safety measures.
At the level of individual production facilities, environmental management and occupational health and safety management are often handled by the same department. Standardizing the PDCA cycle throughout the Group can cultivate a more in-depth understanding of the same type of activities that share the PDCA model (thereby leading to enhanced efficiency).
It will strengthen the framework for communication and coordination between individual sites. Examples of good practice and effective safety measures at one site can be communicated easily to other sites.


The content of Fujitsu Ten's Globally Integrated Certification for ISO14001 and OHSAS18001
Standards
ISO14001:2004   OHSAS18001:2007
Examining authority
TUV Rheinland
Certificate numbers
ISO14001 : 81 104 097322
OHSAS18001 : 01 113 106171
Effective date
August 31, 2012
Certified entities
(Within Japan)
Fujitsu Ten Ltd. Corporate Headquarters
Fujitsu Ten Nakatsugawa Plant
Tochigi Fujitsu Ten Ltd.
(Overseas)
Fujitsu Ten Corporation of the Philippines
Fujitsu Ten (Thailand) Co., Ltd.
Tianjin Fujitsu Ten Electronics Co., Ltd.
Fujitsu Ten Electronics (Wuxi) Ltd.
Fujitsu Ten de Mexico S.A. de .C.V
Scope of certification
Development, design, manufacturing and sale of, and provision of after-sales service for, infotainment(*4) devices (car audio navigation devices and mobile communications devices) and automotive electronics devices.

*Except the manufacturing of mobile communications devices
Notes
*1 Integrated certification is a form of certification involving multiple management systems, which aims to achieve standardization by means of existing management systems, eliminating the need to establish each individual management system separately. Fujitsu Ten Group uses the term "integrated certification" to distinguish it from a group joint certification that unifies several sites in a single certificate.
*2 OHSAS 18001 : Occupational Health and Safety Assessment Series is a management system standard for occupational health and safety drawn up by an international consortium. It uses an accreditation system similar to that of ISO 14001.
*3 Global joint certification is the joint awarding of certification for the same management system to multiple sites. It is a form of group-wide management system certification that integrates multiple sites and offices, with the parent company playing a central role. Unlike the situation with conventional certification where the PDCA cycle is implemented at the level of the individual site, with global joint certification the PDCA cycle is carried out on a Group-wide basis focused around the functioning of the parent company.
*4 Infotainment devices : "Infotainment" is a term coined by combining "Information" and "Entertainment"
[For Reference Purposes] The type of certification (names given are those employed by Fujitsu Ten)
Certification
Management System
Sites
Integrated certification
Multiple different systems e.g. ISO14001 and OHSAS18001
One single site
Globally integrated certification
Multiple sites, including overseas sites
Domestic Group integrated certification
Multiple domestic sites
Joint certification
One single management system
One single site
Global joint certification
Multiple sites, including overseas sites
Domestic Group joint certification
Multiple domestic sites
About FUJITSU TEN
FUJITSU TEN LIMITED(Headquarters/Kobe, Hyogo prefecture, Japan; Capital/5.3 billion yen), established in 1972 with investment from FUJITSU LIMITED, TOYOTA MOTOR CORPORATION, and DENSO CORPORATION, is a leading manufacturer of automotive electronic equipment. It is a globally-recognized manufacturer of car navigation and audio systems, ECU for engine and airbag control, and mobile communication equipment. Consolidated sales totaled 249 billion yen(US$3.11 billion) for the fiscal year ending March 31, 2012.
FUJITSU TEN is involved in the development of systems that use sensor technologies such as cameras and millimeter wave radar to detect obstacles near automobiles. It is expanding its business globally by fulfilling orders for genuine products for Toyota and other automobile manufactures both domestically and overseas.
For more information, see
FUJITSU TEN official site http://www.fujitsu-ten.com/
FUJITSU TEN channel https://www.youtube.com/FUJITSUTENLIMITED
FUJITSU TEN facebook http://www.facebook.com/FUJITSUTENLIMITED
[Inquiries from the press]
Corporate Communications Dept.
FUJITSU TEN LIMITED
E-mail:pr@ten.fujitsu.com
TEL: +81-78-682-2170

The contents of a press release are as of the publication. Later, they are apt to be changed without notice. Thank you for understanding in advance.