Launch of "Driview" - Destination guidance using live - action images

2012
iPhone application for coupling with ECLIPSE car navigation (Version 5)


Launch of "Driview" - Destination guidance using live - action images

May. 16, 2012
FUJITSU TEN LIMITED

FUJITSU TEN Limited (Headquarters in Kobe, Hyogo Prefecture, President and Representative Director: Takashi Shigematsu, capital: 5.3 billion yen) on May 16 commenced the App Store launch of the free iPhone application "Driview" that works with 'ECLIPSE' car navigation systems 'AVN-ZXO2i' and 'AVN-ZO2i.' Through connecting to a FUJITSU TEN car navigation system, this application can superimpose route information such as destination direction and turns on top of live-action images shot with the iPhone camera on the car navigation display, and thereby provide more user friendly guidance to the destination. You can easily download and use this application just by connecting your iPhone to your car navigation system using a 'KW-1207' or 'IPC111' cord (separate sale).
"Driview" in use
Displaying destination guidance information on live-action images - Realizing pleasant guidance coupled with car navigation-
Through combining the high functionality of in-vehicle devices and the scalability of smartphones, FUJITSU TEN in July 2011 launched the 'AVN-F01i' car navigation system in its quest for unprecedented enjoyment and convenience. At the same time, we released three applications: 'TwitDrive' (sharing of tweets), 'DocoCar' (vehicle search in parking areas) and 'Car News Reader' (audio reading of the news). In April 2012, we newly launched 'RemoTalk' for conducting audio communication on maps in our ongoing effort to provide products and services in the quest for convenience and enjoyment.
Our new application 'Driview,' which will be simultaneously launched with the ECLIPSE 2012 summer model, can be connected to the 'AVN-ZX02i' or 'AVN-Z02i' to display moving images of scenery taken by iPhone while driving on the car navigation screen. This can be utilized to provide destination guidance support or be linked with existing applications so that the iPhone camera can be used as an in-vehicle camera.
Through providing car navigation-linked services via 'Driview' and four previously released applications, FUJITSU TEN aims to help realize even more convenient and enjoyable car life.
[Features]
Navigation guidance information can be displayed on live-action images
Coupling with FUJITSU TEN car navigation-linked applications
Use as an in-vehicle camera
Image recording with positional information
Features
Map screen
Navigation guidance information can be displayed on live-action images
Navigation guidance information such as destination and turns is displayed over frontal live-action images taken by the iPhone camera. By enabling the driver to confirm current live information and destination guidance simultaneously, this helps the driver make judgments according to traffic conditions.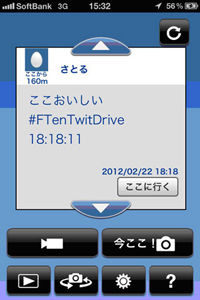 Balloon contents display screen
Coupling with FUJITSU TEN car navigation-linked applications
Tweets from 'TwitDrive' are displayed on the camera images as word balloons, thereby providing a new in-vehicle avenue of use for Twitter and increasing the enjoyment of driving. Moreover, through registering interesting Tweet locations in 'DocoCar,' you can use your iPhone to guide you right to your destination even after leaving your car.




Use as an in-vehicle camera
You can use your iPhone camera to take pictures of your vehicle's rear seats. This allows you to check on conditions in the rear safely without turning your head during driving.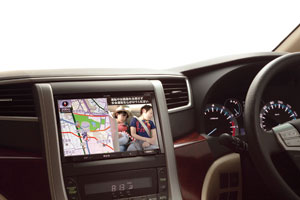 Image of iPhone camera in use
Image recording with positional information
Images that have been shot with 'Driview' can be retained as moving images or still images at a touch. Since images can be stored with positional information, you can cherish your driving memories after you get home.


List of Compatible Applications by Model
Driview
RemoTalk
TwitDrive
DocoCar
Car News
Reader
AVN-ZX02i
AVN-Z02i
○
○
○
○
○
AVN-F01i
―
○
○
○
○
Go here for free download of 'Driview' (iTunes is required).
* You can also download by searching for "Eclipse" in the App Store.
A cradle (separate sale) is required to use 'Driview.' Please obtain this first.
A cradle that meets the following conditions is recommended:
Type that is affixed to the dashboard
Type in which an iPhone is clamped on both sides
Type in which height adjustment is possible
[Compatible terminal/Operating environment] iPhone4, iPhone4S, iOS5.0 onwards
Trademarks
iPhone, iTunes and App Store are registered trademarks of Apple Inc. in the United States and other countries.
'Twitter' is a registered trademark of Twitter Inc.
About FUJITSU TEN
FUJITSU TEN LIMITED operates worldwide businesses including car audio, car navigation systems, home audio, and automotive electronics devices including engine and air bag control, ECU etc.
FUJITSU TEN delivers original products for Toyota Motor Corporation and other domestic and overseas automotive manufacturers.

[Inquiries from the press]
Corporate Communications Dept.
FUJITSU TEN LIMITED
E-mail:pr@ten.fujitsu.com
TEL: +81-78-682-2170
The contents of a press release are as of the publication. Later, they are apt to be changed without notice. Thank you for understanding in advance.