FUJITSU TEN received "Supplier of the year 2011" award from General Motors for Third Consecutive Year

2012
FUJITSU TEN received "Supplier of the year 2011" award
from General Motors for Third Consecutive Year

- Win high recognition for global activity -
April. 26, 2012
FUJITSU TEN LIMITED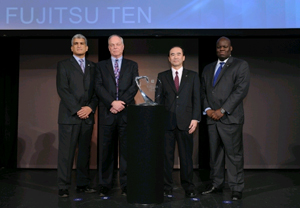 The scene of Awards ceremony
Ryoji Otowa, President of FTCA
(second from the right) and
Chet Korzeniewski, EVP of FTCA
(second from the left)
KOBE, Japan--FUJITSU TEN LIMITED, developer of the ECLIPSE car navigation brand received "Supplier of the year" award from General Motors (GM) for the third consecutive year.
FUJITSU TEN won the 2011 award in part to the recognition for usual delivery to GM, and development and delivery support provided to GM sites in the world.
The awards ceremony was held at Detroit Institute of Art in Detroit, MI, US, on March 13.
Outline of "Supplier of the year"
This award began in 1992 to be given to the suppliers that significantly contribute to GM's global activity and achievement every year. The suppliers to be awarded are selected by the team consisting of staff from departments of GM from the perspectives of technology, quality, support and price.
This year GM selected 82 out of thousands of GM suppliers in the world. While this time 19 suppliers won the award for the first time, FUJITSU TEN has received the award three years in a row.
Ryoji Otowa, President and Chet Korzeniewski, EVP of FUJITSU TEN CORP. OF AMERICA (FTCA), the U.S. subsidiary of FUJITSU TEN, attended the awards ceremony.

Ryoji Otowa, President of FTCA said "It is a great honor for us in global business as a part of FUJITSU TEN Group to receive the award for the third consecutive year. This award granted to us is the result of the continuous effort made by all Group employees who have worked hard and given the highest priority to customer satisfaction. This award will further motivate us to relentlessly strive to supply products using advanced technology and best service from viewpoints of our customers."
[Inquiries from the press]
Corporate Communications Dept.
FUJITSU TEN LIMITED
E-mail:pr@ten.fujitsu.com
TEL: +81-78-682-2170
The contents of a press release are as of the publication. Later, they are apt to be changed without notice. Thank you for understanding in advance.