Update for the TD510/TD508II Models of the ECLIPSE TD Series of Home Audio Speakers

2012
Update for the TD510/TD508II Models of the ECLIPSE TD Series of
Home Audio Speakers
- The World's Most Accurate Sound Reproduction -
Jan. 11, 2012
FUJITSU TEN LIMITED
FUJITSU TEN (Kobe City, Hyogo, Japan; President & Representative Director: Takashi Shigematsu; Capital: ¥5.3 billion)has updated the TD510 and TD508II, its standard models in the ECLIPSE TD series of home audio speakers. The new TD510ZMK2, TD510MK2, and TD508MK3 will be available at the beginning of February 2012.
The ECLIPSE TD series includes the flagship TD712zMK2, the standard TD510ZMK2, TD510MK2, and TD508MK3, and the compact TD307II. For the past 10 years, the goal with this product series has been to achieve accurate sound reproduction based on the time domain theory*1. These efforts have been recognized with numerous awards in England, France, and Japan, as well as faithful use by many audio engineers and musicians around the world.
(The updated models will only be available in Japan.)
New Features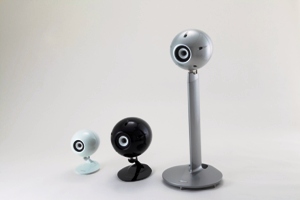 TD508MK3 (left), TD510MK2 (center),
TD510ZMK2 (right)
New full-range speaker unit improves impulse response*2 as well as frequency characteristics and efficiency.

New!

Increased internal volume of eggshell construction for expanded acoustic range.

New!

First standard models with built-in stand. Completely eliminates unwanted vibration and achieves accurate sound reproduction on the same level as the TD712zMK2. (TD510ZMK2)

New!

New support structure allows more precise angular adjustments.

New!

Expanded range of angle adjustment when installed on ceiling, for a variety of installation options in listening rooms. (TD510MK2, TD508MK3)

New!
Design Concept
In 2001, FUJITSU TEN introduced the 512 and 508, its first models in the home Hi-Fi audio market based on the Time Domain theory. These were followed in 2005 with the TD510 and TD508II in three color variations and with features for the home theater market, such as ceiling installation and angular adjustment. Further evolutions have continued to be made in these models, the backbone of the ECLIPSE TD series.
The newly updated models feature accurate sound reproduction that allows the listener to enjoy the exhilaration and comfort of instrumental performance, achieving the goal of a further evolution in acoustic quality based on the concept of the ECLIPSE TD series.
The TD510ZMK2, TD510MK2, and TD508MK3 were developed with the world's most accurate sound reproduction, utilizing a combination of home Hi-Fi audio technology accumulated over more than 10 years as well as technology achieved through the development of automotive Hi-Fi audio equipment used in demanding conditions. FUJITSU TEN is proud to provide speakers that will satisfy music enthusiasts who want to reproduce the sensations experience during a live performance.
New Products
Product name
Model
Suggested Retail Price
(including tax)
Sales Date
φ10 cm speaker (with stand)
TD510ZMK2
¥199,500
(single speaker)
Early
February
2012
φ10 cm speaker
TD510MK2
¥99,750
(single speaker)
φ8 cm speaker
TD508MK3
¥49,350
(single speaker)
TD508MK3 speaker stand
508DMK3
¥26,250
(single speaker)
Note: The model names for the TD510ZMK2, TD510MK2, and TD508MK3 also indicate color. Silver: SV, White: WH, Black: BK. Examples: Silver TD510MK2: TD510MK2 SV, White TD508MK3: TD508MK3 WH
Main Features
Cross-Section of TD Speaker
Newly developed full-range speaker improves impulse response while improving frequency characteristics and efficiency
New!
Diaphragm made of glass fiber, the same material used in the TD712zMK2 flagship model.
Lightweight while maintaining rigidity and an appropriate level of internal loss*3, and completely eliminating resonance in material.
Butyl rubber*4 used along the edges (material that supports the diaphragm) for sufficient amplitude and minimal acoustic characteristics.
First time short rings are used on magnetic circuits (center pole) in TD series products, to suppress magnetic strain for pure acoustic reproduction.
Optimized magnet and voice coil, for improved magnetic flux density over previous models.
Achieves superior phase characteristics and dynamic sound from low frequencies to high frequencies, for the accurate sound reproduction expected from the TD series.
Eggshell construction increases internal volume and expands the acoustic range
New!
The TD510ZMK2 and TD510MK2 have approximately 14% more internal volume and the TD508MK3 has approximately 37% more internal volume than previous models.
Suppression of the effects of back pressure on the operation of the speaker unit and a smooth stroke ensure an expanded frequency range for an enjoyable listening experience.
First built-in stand on a standard model (TD510ZMK2).
New!
The TD510ZMK2 features the stand construction utilized for the TD712zMK2 flagship model.
The stand completely eliminates unwanted vibration and achieves accurate sound reproduction on the same level as the TD712zMK2.
New support structure allows more precise angular adjustments.
New!
TD510MK2 installed on the ceiling
The speaker and stand continue the concept started with the TD712zMK2 flagship model, with three spikes and a unique fixed structure for point contacts. Angular adjustment for the optimal listening point is easier than with previous models.
The speaker can be adjusted vertically in a range from -10° to 15°for improved stereo acoustic reproduction. Further, angular adjustment is easy for both the TD510MK2 and TD508MK3 whether installed on a ceiling or on the floor.
ECLIPSE TD Series
The ECLIPSE TD series of home audio systems are designed according to the time domain theory, to achieve accurate sound reproduction. The ECLIPSE TD series has the following features:
① Articulation level that reproduces even subtle sounds in the audio source, such as a vocalist's breathing
② Spatial reproducibility with which sound seems to emit naturally from the spatial environment,rather than from a speaker
③ A sense of speed that accurately reproduces the rise and fall of sound, one of the most important aspects focused uponby the world's top musicians during a live performance
Installation of TD508MK3
(with 508DMK3, sold separately)
Since 2001, the ECLIPSE TD series has been enjoyed by audio enthusiasts in search of speakers that feature accurate and natural sound without fatigue. These products have been recognized with numerous awards in England, France, and Japan, as well as high praise from many of the world's top audio engineers and musicians. Further, the elegant design of these speakers compliments their functionality, making them perfect for use in restaurants and other businesses with stylish interiors. Although the home Hi-Fi speaker market continues to shrink due to changes in methods and styles for listening to music, the ECLIPSE TD series remains a favorite among enthusiasts who appreciate acoustics, design, interior coordination, and manufacturing design. In addition to Hi-Fi audio applications, TD speakers have also been recognized as perfect for home theater use and as audio output for large-screen televisions.
Further, they have been evaluated highly for their unique shape and focus on interior design, resulting in broad interest not only from core audio enthusiasts but also for use in a variety of lifestyles.
Main Specifications
TD510ZMK2
TD510MK2
TD508MK3
Dimensions
W384×H978×D393 (mm)
W255×H391×D381 (mm)
W180×H289×D268(mm)
Mass
(single speaker)
19.5 kg
9.5 kg
3.5 kg
Unit
10 cm
8 cm
Reproducible
frequency band
42 Hz to 22 kHz
52 Hz to 27 kHz
Efficiency
84 dB
82 dB
Permissible input
(Rated/Max.)
25 W/50 W
15 W/30 W
Impedance
6Ω
8Ω
Accessories
Protective net, Cap x 5
Protective net
Angular adjustment
-10° to 15°
-10° to 30°
Terminology
*1 : Audio theory advocated by Time Domain Corporation President Hiroyuki Yoshii
*2 : Response (output signal) to input signal (impulse). Audio reproduction becomes more accurate the closer the
waveform approaches the input signal.
*3 : Degree of difficulty in audio resonance. With low internal loss audio resonance becomes easier, resulting in
overlapping reverberation and muddy sound.
*4 : A synthetic resin with superior vibration dampening properties.
FUJITSU TEN LIMITED operates worldwide businesses including car audio, car navigation systems, home audio, and automotive electronics devices including engine and air bag control, ECU etc.
FUJITSU TEN delivers original products for Toyota Motor Corporation and other domestic and overseas automotive manufacturers.
[Inquiries from the press]
Corporate Communications Dept.
FUJITSU TEN LIMITED
E-mail:pr@ten.fujitsu.com
TEL: +81-78-682-2170
The contents of a press release are as of the publication. Later, they are apt to be changed without notice. Thank you for understanding in advance.