FUJITSU TEN received "Supplier of the year" award from General Motors for Second Consecutive Year
FUJITSU TEN received "Supplier of the year" award
from General Motors for Second Consecutive Year

-Win high prize regarding Quality, Support, Technology, Cost-
Jun. 8, 2011
FUJITSU TEN LIMITED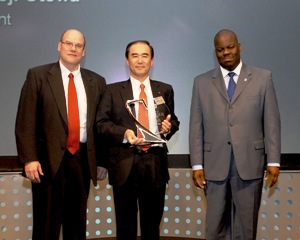 The scene of Awards ceremony
(Center of the picture:Ryoji Otowa,
President of FUJITSU TEN OF AMERICA)
FUJITSU TEN LIMITED (Kobe City, Hyogo, Japan; President & Representative Director: Takashi Shigematsu; Capital: ¥5.3 billion), received "Supplier of the year" award from General Motors(hereinafter GM) for the second time.
The awards ceremony was held at GM Design-dome in Michigan, USA, on March 10.
GM "Supplier of the year"
This award began in 1992, and it is given to the suppliers who significantly contribute to GM's global activity and achievement based on their performance in "Quality, Support, Technology, Cost".
This year GM nominated 82 companies (Including FUJITSU TEN) among their nearly 20,000 suppliers in the world. These award winners are selected by a cross-functional team which is structured with special members including executives in Purchasing, Engineering, Quality, and Logistics.
Meanwhile, Ryoji Otowa, President of FUJITSU TEN CORP. OF AMERICA attended this awards ceremony.
Comment from Ryoji Otowa, President of FUJITSU TEN OF AMERICA
We are very pleased to receive this award for the second year in a row, which recognizes the continued global activities by FUJITSU TEN Group. This award would not have been possible without the continued effort by all employees with focus on customers' satisfaction as the highest priority. With this award, we will continue to work to provide the highest quality products and service, exceeding our customers' quality and performance standards.
[Inquiries from the press]
CORPORATE COMMUNICATION DEPT. FUJITSU TEN LIMITED
E-mail:pr@ten.fujitsu.com
TEL: +81-78-682-2170
The contents of a press release are as of the publication. Later, they are apt to be changed without notice. Thank you for understanding in advance.