2011: New Year Greeting from President
2011: New Year Greeting from President
Jan. 1, 2011
FUJITSU TEN LIMITED
I am honored to wish everyone a very happy New Years .
2010: Full-Scale Market/Product Changes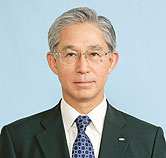 President & Representative Director:
Takashi Shigematsu
There were full-scale changes in the environment surrounding the automobile industry during 2010. Although new car sales recovered to the 2008 levels they were at before the Lehman Shock, this was supported by the rapid growth seen in newly developing countries,accounting for over 50% of the sales. The Chinese market expanded to such a degree that it has surpassed the golden age of the USA to become the largest car market in the world. This means that China has given birth to a market that is some four times the size of neighboring Japan. Moreover, it is expected to expand even more.
Meanwhile within Japan last year we saw the spread of next-generation vehicles (such as HV, PHV and EV) gain momentum and the acceleration in the trend to switch from luxury vehicles to small-sized vehicles.
Business Environment Changes Exceed Expectations
In addition to such changes, the effects of the changing exchange rate with a strong yen also made it difficult for our financial results to exceed our prior expectations. Although sales and profits for the first half of FY 2010 (April to Sept.) increased in comparison with the same period of the previous year, they were generally less than those predicted at the beginning of the year. Fundamental causes for this were principally business environment changes that exceeded our expectations and for which we were unprepared. These included the rise of newly developing countries and the shift towards small-sized cars, as well as the entrance of mobile phone carriers and IT manufacturers into different business areas resulting in their corresponding products and functions, such as smartphones, entering the car navigation system market. Moving forward, we cannot look back to ponder these changes but rather must be conscious that our business environment will be subject to constant changes.
Forging the Path of Growth: Executing Measures that are Simultaneously "Defensive" and "Offensive"
It certainly looks like 2011 will also be a very difficult year. In response such a changing business environment, we must maintain our sales and profits at the most recent levels while also sowing the seeds for business that will put us on the path to mid-term growth. To achieve this it is necessary to reconsider the way we are currently performing our business tasks in order to implement measures that efficiently advance our operations, "defensive", and simultaneously take actions to utilize our strengths to start up and advance into new business areas, "offensive". Specifically, this means establishing and advancing a "defensive" theme focused on streamlined development and production that is optimized from a global perspective and reconfiguring operations, and an "offensive" theme involving the strengthening of Chinese business and information services operations (linked products).
What is needed: Autonomy
To achieve these ends, I would like everyone to be conscious of "autonomy". This does not mean merely fulfilling the requests of our customers, but rather we should act as a good partner by injecting our own will and suggestions into our business relationships allowing us to aim for results from which a win-win conclusion for both parties can be derived.
For 2011, let's all work with such a degree of enthusiasm as we develop and expand upon strategic approaches to our customers not only in Japan but throughout the world as well.
[Inquiries from the press]
Corporate Communications Dept.
Public Relations Team

E-mail:pr@ten.fujitsu.com
TEL: +81-78-682-2170
The contents of a press release are as of the publication. Later, they are apt to be changed without notice. Thank you for understanding in advance.