Acquisition of ISO14001Global Integrated Certification
Acquisition of ISO14001Global Integrated Certification

-Enhanced environmental activities, globally and consistently-
Aug. 20, 2009
FUJITSU TEN LIMITED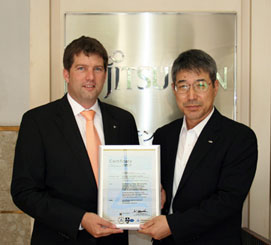 Receiving a Certificate
August 20, 2009 -FUJITSU TEN LIMITED, manufacturer of leading automotive electronics, acquired the Global Integrated Certification of ISO14001, international standard of Environmental Management System(*1)as of Aug 8, 2009. This enables FUJITSU TEN to more effectively promote from an integrated viewpoint the approaches to global warming issues or product environmental regulations.
Based on the understanding that approaches reflecting regional characteristics are essential, FUJITSU TEN has also established "Regional Integration EMS" to integrate national or regional activities. This "Regional Integration EMS" comes from FUJITSU TEN's own idea and it achieves further efficiency by shared systems, exchange of legal information and so on.
Background
FUJITSU TEN has made environmental concerns a company top priority issue. To promote global environmental efforts, FUJITSU TEN established a Global Environment Committee in 1992, enacted FUJITSU TEN Global Environment Charter and acquired ISO14001 for both Japan and overseas. In 2007 FUJITSU TEN acquired "ISO14001 Integrated Certification for Japanese Group" which includes nonproductive sites. Even after that FUJITSU TEN has promoted establishing a management system that performs the environment management on a global basis to correspond to the globalization of environmental matter and the widening product environmental regulations starting in Europe.
Effects
·It is possible to readily comprehend the stream of product environmental regulations around the world and to respond to that stream.
·It enhances the integration of various control rules and the compliance system for product regulations, through a management system.
·It strengthens the company governance by setting and promoting a goal based on total FUJITSU TEN group environmental impact.

FUJITSU TEN will take advantage of acquired knowhow from its Environmental Management System for safety and health issues from now on.
[Details of Global ISO14001 FUJITSU TEN Group acquired]
Applicable standard
ISO14001:2004
Examining authority
TÜV Rheinland
Registration number
81 104 097322
Date registered
Aug 8, 2009
Organizations registered
FUJITSU TEN Group(Global)
⚫Domestic group
(acquired Integrated Certification in 2007)
Total 9 companies/20 sites, incl. Headquarter plant(Kobe), Nakatsugawa plant, TOCHIGI FUJITSU TEN LIMITED
⚫Oversees group
Total 14 companies/19 sites, incl. FUJITSU TEN de MEXICO,S.A. de C.V.,
FUJITSU TEN ESPANA, FUJITSU TEN ELECTRONICS (Wuxi)LTD.(China), FUJITSU
TEN(THAILAND)COMPANY LIMITED, FUJITSU TEN(AUSTRALIA)PTY.LTD.
Scope registered
Infotainment products(*2)(Car Audio/Navigation products, Mobile
Communication radios), Development/design/manufacturing/sales of
Automotive Electronics Devices
(*1)EMS:Environmental Management System
(*2)Infotainment: coined word of information and entertainment
About FUJITSU TEN
FUJITSU TEN LIMITED operates worldwide businesses including car audio, car navigation systems, home Hi-Fi audio, and "Automotive electronics devices" including engine and air bag control ECU and etc. FUJITSU TEN delivers genuine products for Toyota Motor Corporation and other domestic and overseas automotive manufacturers. Products for the consumer market, known by the brand name of "ECLIPSE," are sold and popular in various countries.
For more information, please see: http://www.fujitsu-ten.com/
Click here for more about the environmental preservation activity
[Inquiries from the press]
PUBLIC RELATIONS DEPT., FUJITSU TEN LIMITED
E-mail:pr@ten.fujitsu.com
The contents of a press release are as of the publication. Later, they are apt to be changed without notice. Thank you for understanding in advance.