ECLIPSE INTRODUCES THE "AV Navigation + PORTABILITY" CONCEPT WITH THE AVN4400 in AUSTRALIA
ECLIPSE INTRODUCES THE "AV Navigation + PORTABILITY" CONCEPT WITH THE AVN4400 in AUSTRALIA
The AVN4400 Fulfills Demands for Mobile Entertainment,
Navigation and Portability -- All in a Single Integrated Product.
Apr. 6, 2009
FUJITSU TEN LIMITED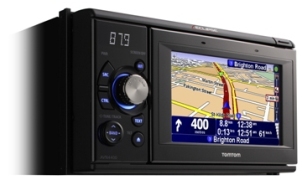 "AVN4400"
(Australia) April 6, 2009 -- FUJITSU TEN LIMITED, manufacturer of leading automotive electronics, unveiled the ECLIPSE AVN4400 in-vehicle navigation system. This new product is the latest realisation of the company's AVN concept which revolves around the three core points of a perfect fit, comfort + awareness and integrated technology, in order to promote driving safety and comfort. Since 2004, ECLIPSE has introduced a number of AVN products, receiving high evaluations from industry sources. The AVN4400 fills a unique position in the AVN product category as its navigation section is detachable. The AVN concept was validated by the unit's selection by the Consumer Electronics Association as an "Innovations 2009 Design and Engineering" honoree.

Meeting consumer demands for sophisticated audio and visual mobile entertainment in combination with portable navigation is of the highest priority. The AVN4400 is a full-functional, permanently mounted source head unit that does not compromise driver sight-lines or airbag operation as it is mounted in-dash for a perfect fit.

Entertainment is fully-featured with CD, DVD and iPod audio and video capability. The AVN4400 audio and video performance is comparable to that of dedicated component units. The unit plays DVDs, CDs, CD-R/RWs, MP3 and WMA files. A motorised tilting front panel hides the slot for the discs while direct access to iPod audio and video is via cable (sold separately). iPod functions are seen on the display. The AVN4400 is also equipped with a USB port.

The AVN4400 is developed jointly with TomTom NV. The TomTom navigation device has a 4.3" WQVGA display with quick responding touch control for all functions. It indicates source unit information when docked. The AVN4400 functions as a standalone portable navigation device when removed. When connected to a computer, it takes advantage of the rich content TomTom offers online such as Map share, navigation voices, POI edit and others. Hands-free calling and voice recognition are also included. Removing the navigation section deters unauthorised removal. A separate mounting kit is available for using just the navigation section in another vehicle.

Convenience and safer driving features include Bluetooth® wireless technology, SUNA live traffic updates, steering wheel control and rear view camera capability.
Live Traffic Updates
The AVN4400 is SUNA Traffic enabled. SUNA GPS Traffic Updates™ provide real-time traffic information directly to your navigation system. Armed with this incredible knowledge of near real-time road conditions, The AVN4400 can warn you of problems ahead, and recommend routes that minimise congestion.

With SUNA Traffic, your GPS navigation system adds value every day and every trip by helping answer questions like:

How long will I be delayed?
Should I detour?
When do I arrive?
What is causing this jam?

Providing you with reliable and up-to-date information, you will be better informed and find motoring less frustrating. Avoiding severe and unexpected congestion with SUNA Traffic updates may even get you there sooner!

The AVN4400 is scheduled to go on sale in April 2009. RRP is not available at this time.
About ECLIPSE
ECLIPSE, a global brand of FUJITSU TEN LIMITED, as one of the world's leading brands in the aftermarket, ECLIPSE enjoys brand-name recognition among serious audiophiles, for outstanding functionality and innovative technology.
About FUJITSU TEN
FUJITSU TEN LIMITED operates worldwide businesses of "Infotainment devices" including car audio and car navigation system, and "Automotive electronics devices" including engine and air bag control ECU and etc. FUJITSU TEN delivers genuine products for Toyota Motor Corporation and other domestic and overseas automotive manufacturers. Marketed commodities, known by the brand name of "ECLIPSE", are sold and popular in various countries.
For more information, please see: http://www.fujitsu-ten.com/
iPod is a trademark of Apple Inc., registered in the U.S. and other countries.
The Bluetooth word mark and logos are registered trademarks owned by Bluetooth SIG, Inc. and any use of such marks by FUJITSU TEN LIMITED is under license.
SUNA GPS Traffic Updates™ is a registered trademark of Intelematics Australia Pty Ltd.
AVN is registered trademark of FUJITSU TEN LIMITED.
[Inquiries from the press]
Damien Jaffe
Fujitsu Ten (Australia) PTY LTD
www.eclipse-web.com.au

PUBLIC RELATIONS DEPT., FUJITSU TEN LIMITED
E-mail:pr@ten.fujitsu.com
The contents of a press release are as of the publication. Later, they are apt to be changed without notice. Thank you for understanding in advance.