FUJITSU TEN ANNOUNCES THE "ECLIPSE MASTERCLASS" IN ASSOCIATION WITH BERKLEE COLLEGE OF MUSIC AT BOSTON'S HISTORIC TRINITY CHURCH ON MARCH 26TH
FUJITSU TEN ANNOUNCES THE "ECLIPSE MASTERCLASS" IN ASSOCIATION WITH BERKLEE COLLEGE OF MUSIC AT BOSTON'S HISTORIC TRINITY CHURCH ON MARCH 26TH

Leading Contemporary Cellist Peter Gregson, and Innovating Computer Programming and Manipulation Artist Milton Mermikides, Team Up to Deliver a Cutting Edge Masterclass Event for a Cultural Musical Experience
Mar. 10, 2009
FUJITSU TEN LIMITED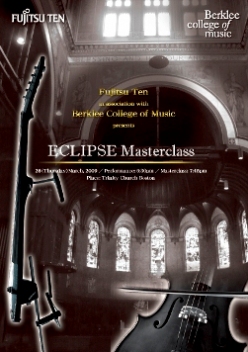 Boston, MA (March 10, 2009) FUJITSU TEN LIMITED, manufacturer of leading automotive electronics, has teamed up with Boston's Berklee College of Music, the institution that pioneered college-level, contemporary music education, to host the "ECLIPSE Masterclass," at 6:30 p.m., on March 26, 2009 at Boston's Trinity Church.

The ECLIPSE Masterclass supports music as an important and necessary cultural art through various events in different countries around the world. The Masterclass events focus on music culture and bring people together to experience and learn from the "power of music," and are created jointly by universities, students, musicians and FUJITSU TEN. Students are invited to participate in planning each event, as well as enjoy performances by well-known musicians and participate in educational open-forum discussions between the students, their community and the featured musicians.

"Berklee College of Music is delighted to be a part of this event," said Carl Beatty, Chief of Staff at Berklee College of Music. "Our students and community truly understand the importance of musical culture and education, and our students are enjoying their roles in the production and promotion of the ECLIPSE Masterclass."
The first ECLIPSE Masterclass event was held in Osaka at the Osaka University, where students and faculty organized the concert and discussion with FUJITSU TEN to bring the student body together to learn from and interact with established Italian composers.

This year's event will feature performances by the British contemporary cellist and assistant music director for BBC's The Manchester Passion, Peter Gregson, who is known for his unique performing technique and who has just completed his debut album this month, from which he will play multiple tracks on an electric cello. Gregson will play interactively with Milton Mermikides, professor at Royal Academy of Music in England, who will be managing live electronics including computer programming and manipulation. Another key component in the performance will be the unique 10-speaker ECLIPSE TD 712z system configured for an omnidirectional response that will be enhanced by Trinity Church's distinctive acoustics, making for a very special musical event.

"Music plays a very important role in ECLIPSE's product philosophy," said Yasuhiko Kotsuji, Managing Director, FUJITSU TEN. "Likewise, music is an educational experience that brings people together and is tremendously important in various cultures, and with this, FUJITSU TEN finds it necessary to encourage exposure to music, as well as contribute to the appreciation of music worldwide."

FUJITSU TEN is proud to proclaim its corporate philosophy of responsibility and contribution to society. The ECLIPSE Masterclass series exemplifies the company's dedication and contribution towards creating a "better tomorrow" through sound and music, the international "language" that brings people from around the world together.

The ECLIPSE Masterclass is open to the public and is free of charge.
About ECLIPSE
ECLIPSE, a global brand of FUJITSU TEN LIMITED, as one of the world's leading brands in the aftermarket, ECLIPSE enjoys brand-name recognition among serious audiophiles, for outstanding functionality and innovative technology.
For more information, please see: http://www.eclipse-td.net/
About FUJITSU TEN
FUJITSU TEN LIMITED operates worldwide businesses including car audio, car navigation systems, home Hi-Fi audio, and "Automotive electronics devices" including engine and air bag control ECU and etc. FUJITSU TEN delivers genuine products for Toyota Motor Corporation and other domestic and overseas automotive manufacturers. Products for the consumer market, known by the brand name of "ECLIPSE," are sold and popular in various countries.
For more information, please see: http://www.fujitsu-ten.com/
[Inquiries from the press]
Stefan Pollack/Monica Ballin
The Pollack PR Marketing Group
spollack@ppmgcorp.com
mballin@ppmgcorp.com

PUBLIC RELATIONS DEPT., FUJITSU TEN LIMITED E-mail:pr@ten.fujitsu.com
The contents of a press release are as of the publication. Later, they are apt to be changed without notice. Thank you for understanding in advance.