ECLIPSE Launches the TD712zMK2 Speaker, the Flagship of the ECLIPSE TD Range, in Europe
ECLIPSE Launches the TD712zMK2 Speaker,
the Flagship of the ECLIPSE TD Range, in Europe
Feb. 20, 2009
FUJITSU TEN LIMITED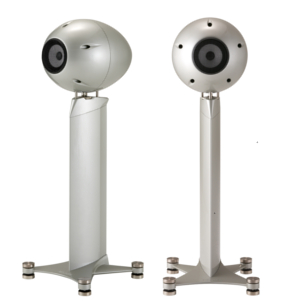 "TD712zMK2"
February 20, 2009 -- FUJITSU TEN LIMITED, manufacturer of leading automotive electronics, has announced that the TD712zMK2 speaker, the flagship of the ECLIPSE TD range, will be available for sale on the European market in March 2009.
A new High-End Time Domain speaker with integrated stand. The unique design focuses on speed, accuracy and imaging, delivering a stunning musical sound.
In 2004, Eclipse released the TD712z speaker, the flagship of the ECLIPSE TD range. This became the ultimate standard for the brand and received exceptionally positive review coverage globally.
Five Years of Perfect Evolution - The MK2
Analogue speaker technology has changed little since its inception and achieving landmark progress presents a considerable challenge.

A five year research programme into the fundamentals of loudspeaker design, materials and technology, has allowed Fujitsu-Ten to markedly upgrade the performance of the TD712z, with the new MK2 version.
- One of the world's very finest loudspeakers
- Five years of research to make the MK2
- Floor standing Time Domain design
- Radical innovative design and appearance
- Eclipse's statement product
- Initial launch as a stereo pair
- Home Cinema variants coming soon

Every element of the design is focused on speed and accuracy. From the outside a simple form, the internal elements are extremely complex. The 712 delivers only the signal from the drive unit, with the cabinet itself adding nothing.

The dramatic speed of the design, ensures that listeners hear the vital first microsecond of a plucked guitar string or drum kick, details that are lost by the slow heavy drive units in most conventional speakers.
The changes that deliver the advances in performance
- more powerful motor system for the drive unit
- re-designed damping system for the driver surround
- new design of coupling to the integrated stand
- new ultra-efficient high-power magnet structure
- high-density zinc internal components
- cabinet 50% larger in volume
The way its built
- highly advanced single drive unit
- vertical angle adjustment of the head
- spiked energy earth path from head to stand to floor
- steel, zinc, aluminium and composite construction
- completely integrated nonresonant structure
- knife-edge wing stand
- full cable management
- speakers weigh a massive 25 kilos each
Audible improvements
- improved transient response / speed
- increased maximum loudness without compression
- further improved spatial imaging and air
- enhanced dynamics
- enhanced bass and extended treble response
- unprecedented clarity
What you don't get
- crossovers with their inherent distortion and phase problems
- internal standing and diffraction waves
- time and phase distortion effects that destroy imaging
- cabinet resonances adding boomy bass
- cabinet coloration that changes human voice
About ECLIPSE
ECLIPSE, a global brand of FUJITSU TEN LIMITED, as one of the world's leading brands in the products for consumer market, ECLIPSE enjoys brand-name recognition among serious audiophiles, for outstanding functionality and innovative technology.
For more information, please see: http://www.eclipse-td.net/
About FUJITSU TEN
FUJITSU TEN LIMITED operates worldwide businesses of "Infotainment* devices" including car audio, car navigation system and home Hi-Fi audio, and "Automotive electronics devices" including engine and air bag control ECU and etc. FUJITSU TEN delivers genuine products for Toyota Motor Corporation and other domestic and overseas automotive manufacturers. Products for consumer market, known by the brand name of "ECLIPSE", are sold and popular in various countries.
For more information, please see: http://www.fujitsu-ten.com/
*Infotainment:Coined term combining information with entertainment
[Inquiries from the press]
Robert Follis Associates London UK
TEL:+44-20-7431-2305

[Inquiries from the customer]
ECLIPSE TD (UK) LIMITED
TEL:+44-20-7328-4499
info@eclipse-td.co.uk
The contents of a press release are as of the publication. Later, they are apt to be changed without notice. Thank you for understanding in advance.