Jan. 5, 2008
FUJITSU TEN LIMITED
ECLIPSE INTRODUCES AN ALL-DIGITAL
POWER AMPLIFIER LINE AT CES 2008

New Digital Technologies Revitalize Power Amplifiers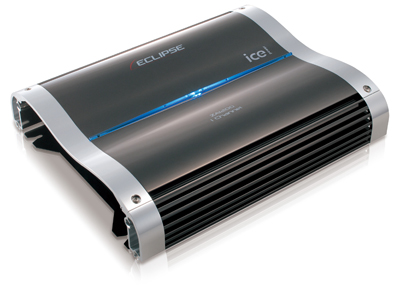 "ZA1200"
Las Vegas, NV . (January 5, 2008) . ECLIPSE has revitalized its amplifier lineup with products that satisfy the mobile environment's specific requirements, making use of ICEpowerR digital technology for high efficiency with less heat as well as more compact dimensions for easier installations.

The ZA1200 is a high power monoblock unit optimized for driving low frequency speakers with a 1,000W output. It can be used singly or in multiples as desired to power subwoofers in high-end systems. Both the XA4200 and EA4200 amplifiers can be configured as a 4/3/2-channel amplifiers with output power increasing as channels are configured from 4 to 3 to 2. The two amplifiers are equipped with built-in crossover settings as well as high/low pass filters to facilitate various configurations. The EA4200 in particular is 45% smaller than its predecessors of similar rated power. Both amplifiers can be used singly or in multiples for complex systems. Completing the current line is another monoblock amplifier for driving subwoofers, but with a more moderate output of 500W.

The new amplifiers are designed for a striking appearance when the installation is in plain sight, with attractive, gently curving enclosures and chrome side plates. These can be detached if the amplifier is installed out of sight. The minimal heat sinking is in black chrome. The finishing touch is a blue LED that softly illuminates the top panel.

The new ECLIPSE amplifiers package digital high technology at competitive prices, offering high power and stable operation, promoting 2 ohm and 1 ohm operation.


| | |
| --- | --- |
| ・ | ICEpowerR is a registered trademark of Bang & Olufsen ICEpower a/s.requires optional interfaces. |

【Inquiries from the press】
Public Relations Section, Corporate Communication Dept., FUJITSU TEN LIMITED
E-mail:pr@ten.fujitsu.com

---
The contents of a press release are as of the publication. Later, they are apt to be changed without notice. Thank you for understanding in advance.