January 6th, 2005
ECLIPSE's Hard Disk-Based Navigation Unit "AVN5495"
Introduced to the U.S. Market at CES 2005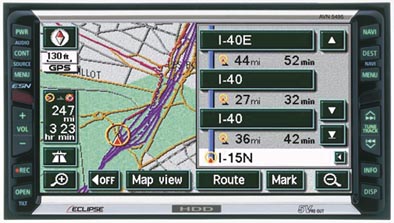 AVN5495
@FUJITSU TEN LIMITED(Headquarters: Kobe, Japan, President: Takamitsu Tsuchimoto, Capital: 5.3billion yen) announces hard disk-based navigation AVN5495, the company's new product lineup for the ECLIPSE brand navigation series.

@AVN5495 was developed from the concept AVN; integration of audio, visual and navigation technologies into a single double-DIN sized product, which enhanced a car's center console. In 1997, ECLIPSE was the first to introduce the integrated AVN concept in Japan and today enjoys a leading position as a manufacturer of innovative mobile electronics. The current product line in Japan features seven AVN units, HDD-based as well as DVD-based. In 2004, the first AVN units for sales abroad debuted in the United States and China, gaining much recognition. However, AVN5495 is the first hard disk-based navigation introduced to overseas' markets.

@ The United States is still a market where car navigation has only penetrated the market and therefore the market is significantly smaller than that of Japan. However interest is rapidly growing and the potential is tremendous. Navigation products from other Japanese manufacturers are also being well received and this is encouraging for market expansion.

@ ECLIPSE is currently the sole manufacturer of double-DIN all-in-one units for sale in the United States. The increasing sales of Japanese automobiles is encouraging as all Japanese automobiles are designed to have double-DIN sized installation space in center consoles and consequently offers an optimal window of opportunity to expand sales in the U.S.

@AVN5495 features a 30GB hard disk drive that provides 10GB for navigation database and 20GB for storage of maximum of 3,000 music files. The navigation database covers the contiguous United States as well as Hawaii and parts of Canada and being hard disk-based, responds instantly. Music files are automatically created from CDs by the "Music Juke" function as they are inserted and into the head unit. AVN5495 plays DVD-Video, CDs, CD-R/RWs and MP3 files and provides multichannel surround sound as Circle Surround II* technology is incorporated.

@ AVN5495 along with other new products will make its debut at the "2005 Consumer Electronics Show" to be held in Las Vegas from January 6 through January 9, 2005.

*Circle Surround II is a registered trademark of SRS Labs, Inc.

@yProduct@Informationz
| | |
| --- | --- |
| Name | AVN5495 ESN E5 6.5"Wide Touch-Panel Display CD/DVD/MS Multi-Source Receiver with HDD Navigation |
| Release Date | April 2005 |
| Projected Sales | 1,000 units per month |
| MSRP | to be determined |
yMain Featuresz
¡30GB HDD Incorporated

10GB for Navigation database and 20GB for Music Juke feature

¡Maximum of 3,000 Songs in HDD "Music Juke" Function

Music Juke automatically "rips" tracks from CDs in the effective ATRAC3 format and will hold up to 3,000 songs. In addition, 230thousand CDDB* feature is included to instantly provide track information on album and artist names.
@*CDBB is a trademark of Gracenote Co.

¡DVD Video, CD, CD-R/RW, MP3 Playback

¡Multichannel Surround Sound from Any Program Sources

The AVN5495 incorporates Circle Surround II* technology for enjoying surround sound from any program source whether DVD-Videos, CDs, and MP3 files with just four speakers without requiring a center channel and subwoofer.
@*Circle Surround II is a registered trademark of SRS Labs, Inc

¡High-resolution 6.5"wide Display

Since the display must function for navigation tasks as well as playing DVD-Video, it must offer a high degree of image resolution, clarity and optimal brightness. The AVN5495 allows dual zone operation and includes an additional video output for rear seat viewing enjoyment while navigation can be accessed in front.

¡Rear Monitor - ready

Connecting to a rear monitor, DVD video is compatible at back seat while using navigation in front.

¡ECLIPSE Security Network

The AVN5495 includes Memory Stick compatibility to allow easy exchange of digital files. In addition, a Memory Stick can be used as a key device in ECLIPSE's proprietary security measure ESN. ESN disables the entire system when the unit is removed without authorization

¡Intuitive Touch Control

The display panel responds to touch control for navigation and audio operational commands, allowing intuitive operation with just a fingertip.

¡Audiophile-grade Output

Maintaining ECLIPSE's traditional high-performance audio philosophy, the AVN5495 delivers a high 5V preamp output level with a low 55-ohm impedance, which ensures driving external amplification optimally with minimal noise and distortion.

¡Built-in Power Amplification

A power amplification section with 50W of power into 4 channels is incorporated in the AVN5495.

¡System Expansion Options

The AVN5495 easily connects to a rear view camera as well as an optional CD changer and other sources to expand a system as desired.