【NEWS RELEASE】
October 17, 2001

Fujitsu Ten to exhibit its ECLIPSE car audiovisual and navigation systems at the 35th Tokyo Motor Show
〜Visitors will "Touch & Feel" our "music-compatible" car audiovisual & navigation systems "AVN(*1)", as well as our next-generation audiovisual car products, exhibited under the theme "Touch the Future!" at the ECLIPSE Booth. 〜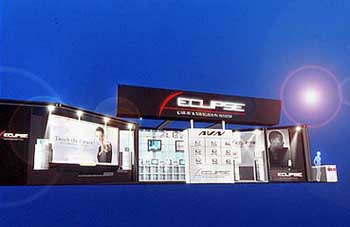 ECLIPSE booth(image)
 Fujitsu Ten Limited (Head office: Kobe, President: Takamitsu Tsuchimoto, Capital: 5,300,000,000yen) will showcase its ECLIPSE car audiovisual and navigation systems under the theme "Touch the Future!" at the Tokyo Motor Show, which will be held at the Makuhari Messe in Chiba Prefecture from Friday, October 26 through Wednesday, November 7.
(October 24 and 25: Press days, October 26: Special guest day, October 27 to November 7: Public days)

Booth Overview and Major Exhibits (Representative booth photos will be attached.)
■ Exhibition Hall: Center Hall (Booth No.: Center 003)
Our booth will feature the ECLIPSE Series with the main focus placed on "music-compatible" car audiovisual & navigation systems "AVN", which are gaining popularity in the market, as well as the top-of-the-line ECLIPSE Sound Monitor car audio systems. Under the theme "Touch the Future!" and through a booth presentation with entertaining elements using sound and visual effects, the booth is designed to propose an enjoyable driving experience that only ECLIPSE can provide, and give visitors opportunities to actually try the products.


−ECLIPSE−
Try our full line-up of "music-compatible" car audiovisual & navigation systems "AVN"!

| | | |
| --- | --- | --- |
| AVN7701D | | AVN5501D |
■AVN7701D−DVD/MD AV system with built-in DVD video & navigation (Photo will be attached.)
This compact 2DIN size(*3) AVN incorporates a wide range of functions-―DVD video-compatible DVD navigation system, 6.5 wide TV, CD, MD, FM/AM radio, DSP (*2), equalizer, and four-channel amplifiers. The system can also be connected to the Internet.
■AVN5501D−DVD/CD/MD AV system with built-in DVD navigation (Photo will be attached.)
The three DVD, CD, and MD decks are integrated in this compact 2DIN size AVN using leading-edge integration technology only ECLIPSE can offer. This unique AVN enables users to enjoy their favorite music CDs and MDs while using the DVD navigation function with no need to connect a player or changer.

−ECLIPSE Sound Monitor−
Try our top-of-the-line car audio systems, which offer pure digital sounds! The concept behind these systems is to customize sounds to an individual car. They will turn every car interior into the ideal listening space.
■ DTA-500X digital control amplifier/tuner
■ CDT-450X CD tuner (Scheduled to be launched on November 1)


Car navigation and car audio system reference exhibits envision the future direction of the next-generation car media.
■ DVD video-equipped 3 deck "AVN"
AVN system with three decks (DVD, CD, and MD), which offers DVD video viewing as well.
■ Semiconductor memory card-compatible audiovisual system
This audiovisual system enables the reproduction of music, which users downloads from a multimedia terminal or PC in CD shops, convenience stores, etc., and records in the semiconductor memory card.


Visual Live "Touch the Future!"
The ECLIPSE Girl will host this AVN-theme presentation show, which consists of four sections, and incorporates entertaining elements with visual and sound effects.


【Explanation of Technical Terms】
(*1) AVN: Audio Visual Navigation
A product integrating audio, TV, and navigation systems. We refer to this type of product form as AVN.
(*2) DSP: Digital Signal Processor
A device for processing signals using high-accuracy digital technologies.
Using this DSP technology, we developed a product called a DSP Sound Processor, which creates the sound field within the car to match that of concert halls, clubs, and other performance venues. In the context of this news release, "DSP" refers specifically to this product.
(*3) DIN size
DIN standard sizes. Consoles of cars where audio equipment is mounted normally comply with these standard sizes.
1 DIN: 50 mm (H)×178 mm (W), 2DIN: 100 mm (H)×178 mm (W)

---
The contents of a press release are as of the publication. Later, they are apt to be changed without notice.
Thank you for understanding in advance.

---